Create a Legacy
How will you express your values, experiences and interests to the next generation? With thoughtful estate planning now, you can be assured your assets will be directed to the causes you care about most.
We feel very comfortable making legacy gifts to the Foundation knowing that it will be a good steward of our donations and will make grants that are relevant to the most pressing future needs. The long-term stability of nonprofits in Monterey County can be enhanced and secured with legacy donations. – Bill and Nancy Doolittle
It's all in place. It will continue after I'm gone. Just knowing you're helping someone feels good. – Nancy Ausonio, CFMC fund holder, Legacy Society Member
As an individual without family heirs, it's reassuring to know that even after my life, CFMC will be "Here for Good " providing competent investment management and careful grantmaking so our assets can continue to support causes in the community we loved so much. – Jackie Wendland
The Legacy Society recognizes individuals who have remembered the CFMC in their estate plan, made the foundation the beneficiary of life-income gifts or established an endowed fund during their lifetime.
How it Works
You include the CFMC as a beneficiary of your will or trust. We can help you or your attorney with sample bequest language.
You determine the type of fund you would like to establish with your gift.
Your charitable gift is excluded from your assets for estate tax purposes.
Your gift creates a permanent source of community capital, helping to do good work forever.
You can make a legacy gift through:
Legacy News
Read our Legacy news with stories of giving.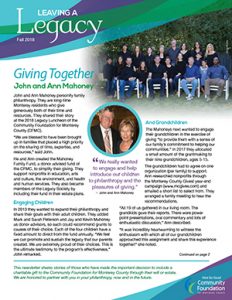 Guide to Planned Giving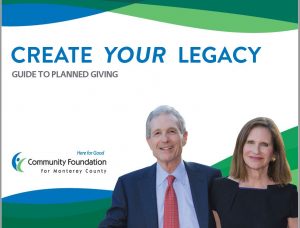 Visit our online Planned Giving Center for resources to help you plan your legacy, including a confidential wills planner. We are happy to partner with you and your professional advisor to help maximize the impact of your philanthropy. While we publicly recognize those who have notified us of their plans, we also appreciate and honor the wishes of those who wish to remain anonymous.
Legacy Society Members
The following individuals and couples have joined the Legacy Society:
Anonymous (5)
Tonya and Rick Antle
Yvonne A. Ascher and Leonard Laub
Tony Ayres
Daniel R. Baldwin and Anne Ylvisaker
Robert P. Balles
Arlene Barr
Nancy L. Bartell
John B. Bergin*
Paul P. Bianchi
Nancy Bletzer
Joyce Blevins
James W. Bogart
Thomas Bohnen
Jay and Ann Brown
Julie A. Cason and Lisa K. Crawley
Joseph* and Betty Chaffers
Mishka Chudilowsky and Henry Azama
Julie Conrad
Katherine M. Coopman
Margaret D'Arrigo-Martin
Robert N. Danzinger and Martha Drexler Lynn
Larry Davidson and Beverly Dekker-Davidson, Dekker Davidson Foundation
Wallace F. and Lucille Davis*
Christine Dawson
Steve and Sona Dennis
Martin Dodd*
William and Nancy Doolittle
Julie Drezner
Stephen Eimer and Kevin Ann Cartwright
Frances H. Elgan*
Roberta Elliott
Norma Esselstyn
Lowel I. Figen
Cyrus and Jean Fitton
Crawford E. and Linda P. Foy
Susie and Charly Franklin
Joel S. and Dena Gambord
James and Jeri Gattis
Donald and Frances Gaver
Rodney Guilfoil*
Terry Haber
Lyle Hall
Ruth Hartmann
Peter C. Hatton
Virginia O. Hawes
Dick Hawkinson*
Thomas Hawley
Carol and Don Hilburn
Richard Hobley and Deborah Steel
Jeffrey and Amanda Holder
Jeanne S. Holmquist
Robert and Millie House
Chris and Toula Hubbard
Jack Jewett
Craig and Christine Johnson
Joanne Taylor Johnson
Mark and Susan Johnson
Colburn and Alana Jones
Karen D. Kadushin
Mary Ann Kane
Rick and Martha Kennifer
Alice V. Kinsler
Paul Lawrence and Marion Buccafurni
Douglas C. Lee
Jennifer Levey
David S. and Norma Lewis
Esther H. Lindsey
Robert H. Lindsey

Todd Lueders
Valera W. Lyles
Tom and Kathy Macdonald
John and Ann Mahoney
Jan and Tannie Mandel
Roger and Carolann Manley
Michael and Tobi Marcus
Joseph A. and Sheila Mark
Jan McAlister
Sherrie McCullough
Terry A. McHenry and Joan Smith McHenry
Thomas D. Melville
Lenore Meyer*
Malcolm and Joanne Millard
Sidney Morris
Tony and Lary Muller
Alec and Kim Murdock
David M. Nee
Vicki Nelson
Diane R. Nonella
F. Robert Nunes
Alfred P. Oliverio
Charles Olvis and Miranda Morris
Mike and Mary Orradre
Nicholas M. and Nicollette Pasculli
John Phillips and June Dunbar Phillips
Gregory A. and Winoma Plaskett
Margaret L. Radunich
Rex and Joan Reade
Reid-Robnett Family Trust
Paul Rochester
Lee and Shirley Rosen
Jean Rudolph* the Lauralie Irvine Foundation
James C. Sanders
Kenneth C. Schley
Carol Shade
JeriAnn Shapiro
Connie Shelstad
Robert B. Sheppard*
Janet L. Shing
Sidney Sue Slade
Madison Smith*
Pamela D. Smith
Charles and Leslie Snorf
George Somero and Amy Anderson
David and Maryanne Spradling
Jean Stallings
Loren Steck and Annette Yee Steck
Judy Sulsona and Bill Rawson
Tom Sweeney
Robert and Leslie Taylor
Fredrick W. Terman and Nan Borreson
Brian Thayer
Peter and Anne Thorp
Vincent and Evelyn Torras
William H. and Susanne S. Tyler, III
Patricia Tynan-Chapman
William Umeki
James R. Valentine
Robin Venuti and Joseph Rock
Jacqueline Wendland
Benjamin and Mary Ann Whitten
Nels P. and Jill Wiegand
Kenneth and Mary Wright
Richard Zahm
*In Memoriam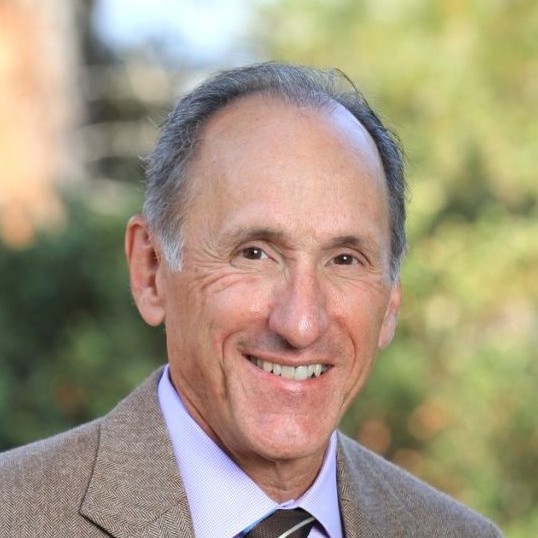 Dan Baldwin
President/CEO
831.375.9712 x115
Email Dan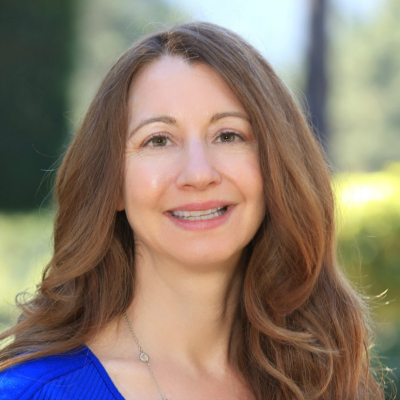 Christine Dawson
Vice President of Philanthropic Services
831.375.9712 x126
Email Christine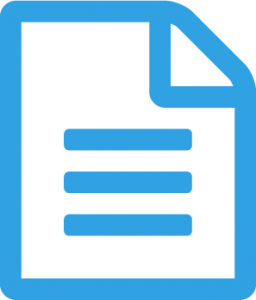 Legacy Society