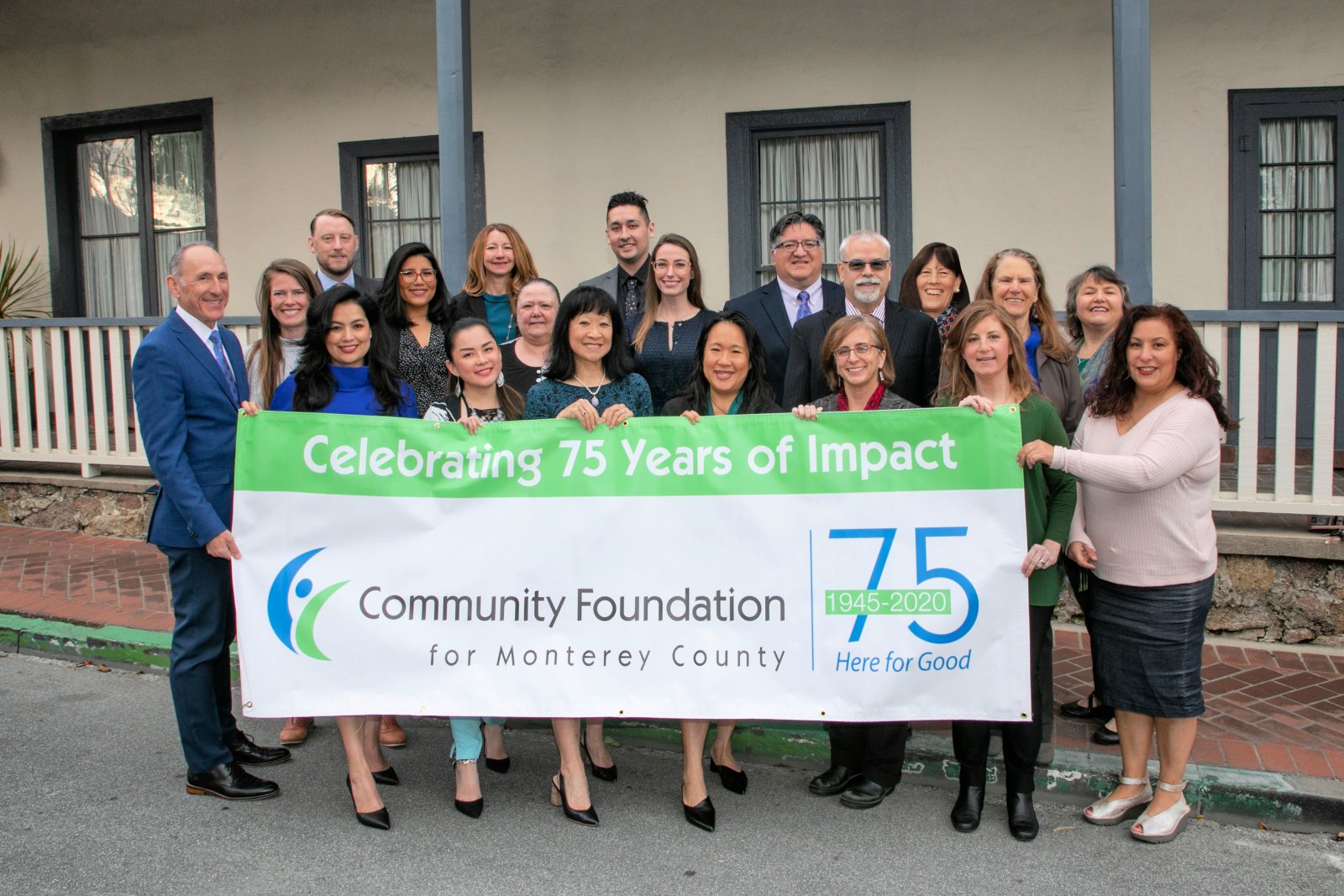 75 Years of Impact
Here for Good – 75 Years Strong

A major anniversary is a milestone. It inspires reflection on the past and an opportunity to look towards the future. The "Monterey Foundation," originally incorporated March 26, 1945, has evolved over the last 75 years to become the organization it is today – the Community Foundation for Monterey County (CFMC). We invited several current and past board members, grantees and community members to reflect on the impact of the foundation. (See videos below).
The 32 visionary men and women who met in the Old Custom House on a Monday afternoon to provide "a responsible agency through which public spirited benefactors may contribute to funds" created a powerful legacy. They included Pebble Beach Co. founder S.F.B. Morse, philanthropist Margaret Jacks, Presidio Commandant Col. Roger S. Fitch, Monterey mayor Carmel Martin, Sr., painter Armin Hansen, designer Francis Elkins and poet Robinson Jeffers. (See full list below). Those who have served as CFMC board members over the years owe a debt of gratitude to these early founders and continue their legacy of meeting community needs.
Preserving History and Open Space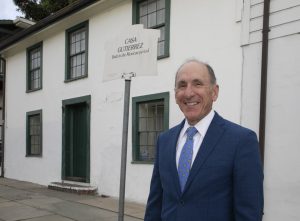 The foundation was established to preserve historic adobes under threat of post-war development. The organization first purchased Casa Gutierrez for preservation and restoration. Fremont Adobe and Casa Abrego followed. In the 1960s the scope broadened to include "general charitable educational, philanthropic, cultural and benevolent purposes."
In the 1970s the group expanded its work to include the preservation of select parcels of open space, including California's First Theater garden, the top of Jacks Peak, S.F.B. Morse Cypress Grove and Pescadero Point in Pebble Beach to save these properties for future generations. Eventually the adobes and properties were donated to preservation groups.
Expanding Impact
In the 1980s the board began the process of building permanent endowments to benefit the full range of community needs and hired full-time staff, President/CEO Todd Lueders. With an endowment of $1 million, the organization changed its name to the "Community Foundation for Monterey County" in 1984, opened a Salinas office and broadened grantmaking countywide. The CFMC is one of 800 community foundations nationwide. Thanks to the generous people of Monterey County, it is in the top 80 in the country in asset size, with more than $300 million in charitable assets.
The Spirit of Local Philanthropy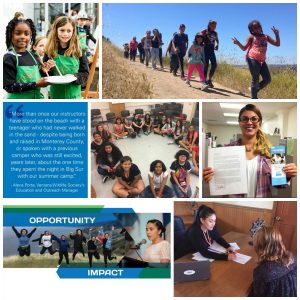 The CFMC reflects the spirit of local philanthropy. A record $19.2 million was granted in 2019, and more than $205 million has been granted cumulatively through 2019. Annual total grants have set records in the last several years thanks to our donor advised fund holders, the rise of scholarships, and the Monterey County Gives! year-end giving campaign. Gives! is a partnership of the CFMC, the Monterey County Weekly and the Monterey Peninsula Foundation, and has accounted for more than $5 million in grants each of in the last three years.
The CFMC also engages in community leadership work, bringing organizations together around issues such as the 2020 Census, affordable housing and homelessness. The CFMC will continue its vision of healthy, safe, vibrant communities through The Fund for Monterey County, an endowed fund to meet important community needs as they change over time.
The future is bright. Through careful stewardship of the philanthropic resources entrusted to us, thoughtful planned gifts by our Legacy Society members, strong grants and community leadership we will be Here for Good.
Our founders would be proud.
The Founders
These are the names listed as original members on the Monterey Foundation Articles of Incorporation March 26, 1945.
Founders & Historic Background
Frederick R. Bechdolt

(1874-1950)

Frederick R. Bechdolt, a Pennsylvania native, lived an adventurous life, including gold mining in Alaska, driving sled dogs and helping drill the Cascade tunnel in Washington. He settled down as a journalist in California, but became best known for his novels, short stories and articles with western themes. He co-authored, with W. James Hopper, 9009, an important novel about prison life. He was active in the Carmel literary community. ("Writers Recall Colorful Career," Monterey Herald, July 21, 1950, p. 11)
Samuel G. Blythe

(1868-1947)

Sam Blythe was a newsman who held numerous editing and reporting positions in the Buffalo, New York, area. He was prominent enough that he was featured on the cover of one of Time magazines first issues, August 13, 1923. Later in his career, he traveled widely, reporting international stories.  He wrote numerous books, the most notable of which is The Making of a Newspaperman, which is still available.  He moved to Monterey toward the end of his career. Read more
Clyde A. Dorsey

(1891-1981)

Clyde Dorsey, a native of Missouri, came to Monterey in 1911 to teach high school. In 1927, he began his long career with the City of Monterey, serving as city clerk and city manager.  Upon his retirement, he undertook a second career in real estate and development in Mission Fields, South Carmel Highlands and Carmel Knolls.  He was very active in the community, including the Monterey Planning Commission, the chamber of commerce, and Monterey History and Art Association. ("Former City Manager, Clyde Dorsey, Dies," The Californian, January 24, 1981)
Anita Doud 

(1890-1975)

Anita Doud was renowned as a philanthropist and preservationist.  Her grandfather, Francis Doud, immigrated from Ireland in 1845 and was sergeant at arms for the California Constitutional Convention. He built one of Monterey's earliest wooden houses, which is now owned by the Monterey History and Art Association. It was once used as the headquarters of the Monterey Foundation (now the Community Foundation of Monterey County). She was particularly noted for her work on behalf of Japanese Americans returning from internment camps. ("Anita Doud," San Francisco Examiner, November 11, 1975, p. 30)
George W. Eckhardt

(d.1973)

Frances Adler Elkins

(1888-1953)

Frances Elkins was a legendary interior designer whose ground-breaking work influenced many later decorators. Her tour of Europe as a teenager inspired her eclectic style, known for combining traditional elements such as Chippendale and Ming with unexpected modern features. She began her career decorating for friends in Pebble Beach and San Francisco, but later expanded to Chicago (where her brother, David Adler, was a prominent architect), New York and elsewhere.  She restored and decorated Casa Amesti and lived there for 35 years, donating it to the National Trust for Historic Preservation. Read more
S.J. Field
Dr. James B. Finley
Dr. James Finley practiced dentistry in Monterey for many years and was active on a state-wide basis with the dental society.
Colonel Roger S. Fitch 

(1877-1955)

The Foundation's founding president, Colonel Roger S. Fitch, retired as commandant of the Presidio of Monterey after a distinguished 30-year U.S. Army career. He was a Rough Rider with Theodore Roosevelt and served in France during World War I.  He was president of the Monterey History and Art Association for more than 15 years and was the primary force behind the development of the famed Path of History through downtown Monterey. ("Colonel Roger S. Fitch, Originator of the Path of History, Succumbs," Monterey Herald, September 22, 1955) Read more
Martha Sargent Gragg

(c.1875-1948)

Martha Sargent Gragg's grandparents arrived in California in 1851, settling in Monterey about 1857. In that year, they purchased the San Carlos and San Francisquito ranches, totaling more than 22,000 acres in the Santa Lucia Mountains.  Following her mother's death, the property was sold to George Moore, who developed a luxurious hacienda and private resort; the land became the Santa Lucia Preserve.
Martha L. Green
Mary Greene came to Monterey to serve as Custodian (Curator) of California's First Theatre.  She later became the Curator of the Custom House museum from 1937 until her retirement in 1957. She lived in one of the old adobes, Casa Joaquin de Soto.
Robert Allen Griffin

(1893-1984)

Bob Griffin came to Monterey in 1921, following graduation from Stanford University and Army service. Friends persuaded him to stay and start a newspaper; the Monterey Peninsula Herald printed its first edition on June 15, 1922. His publishing career was devoted to community concerns including improved governance, business revitalization, environmental conservation, improved governance and, especially, preservation of Monterey's historic adobes. He left the paper briefly in 1941 to serve as a regimental commander in Europe. He returned in 1945, having won numerous medals for valor. In the 1950s, he took on numerous diplomatic tasks, including special missions to China and Indochina.  He later worked on support for Fort Ord and was on the California Bicentennial Commission. He retired from the paper in 1970, having earned many civic and military honors. Read more
Stuart Haldorn 

(1888-1973)

Stuart Haldorn was the stepson and heir of James Murray, one of the wealthiest Montana mine owners. He and his wife lived in the Tevis/Murray mansion, "La Hacienda," on the waterfront near Cannery Row. He was a founding member of the Stillwater Yacht Club in Pebble Beach. He also had a ranch where he raised horses and cattle and was involved in California Rodeo Salinas and the early development of the Monterey County Fairgrounds.
Armin Hansen

(1886-1957)

Armin Hansen gained fame for his plein air painting, particularly with marine themes. A native Californian, he studied art in San Francisco and, for six years, in several European countries. He moved to the Monterey Peninsula in 1914, where he was very active in the local arts community and taught many noted artists. His works were featured in more than a hundred exhibitions throughout the country and numerous museums have included is paintings in their collections. ("Armin Hansen," Wikipedia, 2020)
W.R. Holman

(1884-1983)

William R. Holman took over his father's Pacific Grove dry goods store in 1905 and, over the next two decades, developed it into the largest department store between Los Angeles and San Francisco. He was a very active community member, leading the campaign for the construction of the Holman Highway (now State Route 68) connecting Pacific Grove with Highway 1.  He and his wife made a major contribution to local arts and history through their expansive collection of Native American artifacts, now exhibited at the Pacific House museum. They also donated a collection of Alaskan Native artifacts to the Monterey Museum of Art. ("W. R. Holman, Business, Civic Leader, Dies at 97,", Monterey Herald, December 31, 1981)
W.C. Hudson
Margaret Jacks

(1874-1962)

Margaret Jacks and her siblings inherited some of Monterey's most historic buildings from their father, David Jacks. Margaret was passionately devoted to preserving Monterey's history and natural beauty. She was a very active founding member of both the Monterey History and Art Association and the Monterey Foundation. In the 1920s, she restored the "Old Pacific Building" and hired the Olmsted Brothers landscape architecture firm to design the adjoining Memory Garden. In 1954, she donated the Pacific House, the Memory Garden and Casa del Oro (the Joseph Boston Store) to the California State Park Commission.
Andrew B. Jacobsen

(1890-1955)

Andrew Jacobsen, a Pacific Grove resident, sat on the Monterey County Board of Supervisors for 22 years (1933-1955), serving as chair for 20 of those years, until sudden death in 1955. (The Californian, March 6, 1956, p. 6)
Robinson Jeffers

(1887-1962)

Robinson Jeffers was one of the country's most prominent and influential poets of the 1920s and 1930s. He was a brilliant student and linguist, graduating from Occidental College at the age of 18. He and his wife Una came to Carmel about 1914 and soon began building their retreat, a granite house and tower ("Tor House and Hawk Tower). He was particularly attracted by nature and wildness, and his poems often reflect his views of nature and the Central California coast. He was known for his narrative epic poems with dramatic stories. His poetry became less popular in the 1940s because of his outspoken opposition to U.S. entry into World War II. However, he was featured on a U.S. postal stamp and on the cover of Time magazine. ("Robinson Jeffers," Wikipedia)
Angelo Lucido

(1897-1949)

Angelo Lucido, a Sicilian emigrant, was one of the Central Coast's most successful and influential fish processors. He owned the San Carlos Canning Company, with facilities in Monterey, Oxnard, and Port Hueneme. ("Packer Dies in Hotel Here," San Francisco Examiner, January 24, 1949, p. 27)
Colonel Harold Lewis Mack

(1884-1985)

Colonel Harold Mack was an economist and stockbroker who moved to Monterey in the 1930s. He was an officer in in World War I, acted as civilian defense chief before World War II, and then re-entered the Army in 1943. He was also a noted artist, specializing in landscapes. He actively advocated for artists and writers during the Depression years. His hand-built home, Hacienda de Los Amigos, became Santa Catalina School in 1950.
Carmel Martin, Sr.

(1879-1965)

Carmel Martin, Sr., was Monterey's first popularly elected mayor (1911-1913) but his primary contributions were his decades of service on the school board, the City of Monterey Planning Commission and the Monterey County Planning Commission. He was particularly involved in preserving historic buildings. ("Carmel Martin of Monterey," San Francisco Examiner, February 1965, p. 25)
Colonel Charles H. Mason
Emmett Mcmenamin

(1914-2011)

Emmett McMenamin served on the Monterey City Council in the 1930s-1940s and was later Monterey County Clerk. He was active in the Monterey History and Art Association.
Samuel F.B. Morse

(1885-1969)

Samuel F. B. Morse was one of the Monterey Peninsula's most influential residents for much of the twentieth century. In 1916, he arrived in Monterey to manage the Pacific Improvement Company properties, including the Del Monte Hotel. Shortly afterward, in 1919, he bought most of the land and formed his own company, Del Monte Properties (now the Pebble Beach Corporation). His goal was to develop a new community while preserving much of the land as open space. Under his leadership, the property became a spacious residential community featuring eight golf courses, open space, scenic beaches and other amenities.  (www.pebblebeach.com; Wikipedia "Samuel Finley Brown Morse")
Martha E. Newcom
W.M. O'Donnell 

(d.1949)

William O'Donnell earned a law degree at Cornell University, but embarked on a newspaper career in California following his service in World War I. He arrived in Monterey in 1927 to be managing editor of the Monterey Peninsula Herald. He acted for the Herald's publisher, Robert Griffin, during his lengthy absences on international and civic missions. He was associate publisher at the time of his death. He and his wife, Mayo Hayes O'Donnell (a prominent local historian) restored and lived in Casa Soberanes, now part of Monterey State Historic Park. (W.M. O'Donnell Taken by Death," Monterey Herald, August 16, 1949)
Myron Oliver

(1891-1967)

Myron Oliver grew up surrounded by art and artists, since his parents owned an art supply store in Monterey. He attended Stanford University and studied art in New York with the eminent William Merritt Chase and at the Art Students League. He returned to become one of the Monterey Peninsula's most prominent artists and a founder of the Carmel Art Association as well as the Monterey Foundation. (www.hardygalleries.com)
Noel Sullivan

(1890-1956)

Noël Sullivan, a concert singer and philanthropist, belonged to two notable California families. His mother, Alice Phelan Sullivan, was the sister of James D. Phelan, who served as mayor of San Francisco and a U. S. senator. His father, Frank Sullivan, was the grandson of John Sullivan, who came west from Iowa in 1844 with the Stephens-Townsend-Murphy Party. Noel studied voice abroad and lived in Paris; during World War I he served as an ambulance driver with the American Field Service. In 1925, he returned to San Francisco, where he became a noted art patron and socialite. In 1939, he moved to Carmel Valley, where he actively supported the Carmel Music Society and participated in the Carmel Bach Festival.  ("Noel Sullivan," Wikipedia, 2018)
Maria Antonia Bach Thompson 

(1889-1961)

Maria Thompson was known for her philanthropy and interest in history and preservation. She was descended from two governors of early California. Pio Pico was the last governor of Alta California under Mexican rule; he became a very successful businessman and landowner in Los Angeles, who acquired more than 500,000 acres in Southern California. Jose Castro (1808-1860) was acting governor of Alta California in 1835, and military commander who strongly supported California independence from Mexico. He was granted Rancho San Justo, which included the settlement surrounding Mission San Juan Bautista. ("Mrs. Thompson," San Francisco Examiner, November 30, 1961, p. 33)
Edward H. Tickle

(1876-1969)

Edward Tickle represented Monterey County in the state senate from 1933 to 1945. He was a conservative Republican who became a delegate to the Republican National Convention in 1944. He was also a real estate developer in Carmel Highlands and was a founder of the Highlands Inn in Carmel Highlands. ("Former state senator Edward H. Tickle Dies," The Californian, October 18, 1980, p. 2)
James F. van Loben Sels

(1882-1977)

James van Loben Sels was from a prominent Northern California family and graduated from the University of California, Berkeley with a degree in chemistry. For a few years, he had a construction company working on building San Francisco's sewer system. He later managed a ranch in Butte County owned by Stanford University. In 1959, following the death of his first wife, he married Della Brooks Walker, an artist whose family had founded the Walker Art Center in Minneapolis. The couple lived in her house at Carmel Point, designed by Frank Lloyd Wright. (findagrave.com/memorial/79122327/)
T.A. Work 

(1870-1963)

Thomas A. Work, Sr., came to Monterey from Scotland in 1883. He held very modest jobs–delivering milk, selling firewood, and opening a small feed store. The store expanded into a cattle ranch and further land acquisitions. He purchased the First National Bank in 1906, and went on to establish several other local banks, which he sold to Crocker-Anglo Bank in 1959. His major interest was in land, as he bought 1,600 acres in Carmel Highlands in 1896, quickly selling it for a good profit. Around 1930, he purchased 2,000 acres of pea fields north of Seaside, which he sold to the U.S. Army for Fort Ord. At the time of his death, it was estimated that he owned at least a quarter of downtown Monterey, plus land in Pacific Grove and elsewhere. In 1936, he purchased one of the oldest adobe houses, La Mirada (now owned by the Monterey Museum of Art), which he and his wife landscaped extensively. He moved to Pebble Beach after his wife's death.

("Laird of Monterey," San Francisco Examiner, April 20, 1963, p. 37; www.mchsmuseum.com/lamirada.html)
CFMC In the News
"Hope in Trying Times" (Carmel Magazine, Summer 2020)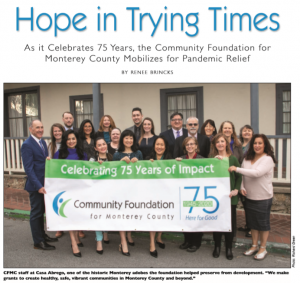 75th Anniversary Reflections
We originally planned an in-person celebration for 2002. As we were unable to meet in person due to COVID-19, we asked current and past board members, community members and grantees to reflect on the foundation's impact through the years. Check back as we add more videos.
What is the Community Foundation for Monterey County?
One Word