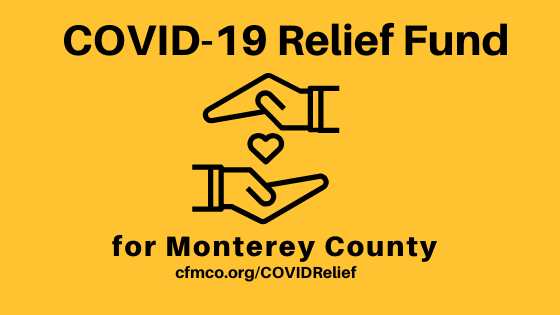 COVID-19 Relief Fund
The Community Foundation for Monterey County is grateful to our many generous donors and has awarded more than $4 million in COVID-19 Relief Fund grants. 
Covid-19 Relief Fund
The COVID-19 Relief Fund addresses the immediate and longer-term needs of our region's most vulnerable residents. The Community Foundation for Monterey County created the fund in partnership with the Monterey Peninsula Foundation to help those affected by the impact of the Coronavirus in Monterey County.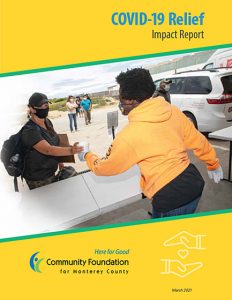 Monterey County is a caring, resilient and generous community. More than $4.1 million has been granted.

Read the COVID-19 Relief Impact report for a list of grantees and other efforts.
This slideshow requires JavaScript.
100% For Grantmaking
Donations to the fund support nonprofits addressing community needs in human services, health, housing and education, and will make grants to organizations providing aid to impacted individuals and families in Monterey County. The fund is a trusted repository for philanthropic assets to be directed specifically for this purpose. 100% of donations will be used for grantmaking.
We're concerned about community health, and people facing economic hardship and food insecurity now and in the months to come. By being proactive during times of uncertainty, we can come together to respond to the evolving needs of our diverse community." – Dan Baldwin, CFMC President/CEO
Those wishing to contribute can:
Make a secure, tax-deductible online donation
Mail a check payable to "Community Foundation for Monterey County" with "COVID-19 Relief Fund" in the memo line to: 2354 Garden Road, Monterey, CA 93940.
Call 831.375.9712 Monday through Friday from 8:30 a.m. to 5:00 p.m. Cash donations are not accepted.
Contribute stock or make an IRA Qualified Charitable Distribution (QCD). Please contact Christine Dawson or call 831.375.9712 x126 for instructions.
If you are a CFMC donor advisor, you can request a grant through Donor Central or contact your Philanthropic Services Officer to learn more or make a grant.
Foundation leaders are monitoring how the Coronavirus impacts our community and will deploy additional financial resources to best meet evolving needs. Thank you to the Monterey Peninsula Foundation, Posey Family Foundation, CFMC donor advisors, individual and business donors for their support.
We are proud to collaborate with other local funders to provide a quick financial response, lending support to our community in this unexpected time of need." – Steve John, Monterey Peninsula Foundation Tournament Director and CEO
Nonprofits assisting those impacted by the Coronavirus are invited to apply for a grant. Grants are reviewed on a rolling basis. Please see grant guidelines at www.cfmco.org/COVIDReliefGrants.
COVID-19 Relief Fund Grantees
The COVID-19 Relief Fund began making grants to Monterey County nonprofits on March 21, 2020. Additional grants may be made depending on contributions to the fund.
COVID-19 Relief Fund Grantees
| | | |
| --- | --- | --- |
| Organization Name | Amount Awarded | Program Name |
| ACTION Council of Monterey County | $15,000 | COVID-19 direct support for families |
| AIM for Mental Health | $30,000 | AIM Ideas Lab for Youth Mental Health |
| Alisal Education Foundation | $30,000 | Emergency financial support for families (Alisal in East Salinas) |
| Alliance on Aging | $10,000 | COVID-19: iPads for resident/family communications |
| ALS Association Golden West Chapter | $30,000 | COVID-19 program support for 25 families |
| ALS Association Golden West Chapter | $30,000 | ALS care support |
| American Cancer Society | $30,000 | COVID-19 program support for Monterey County residents |
| American Cancer Society  | $30,000 | Cancer patient services and COVID-19 recovery |
| American Red Cross of the Central Coast | $30,000 | Support for Blood Drive and relief programs due to the COVID-19 crisis in Monterey County |
| American Red Cross of the Central Coast | $30,000 | Support for Blood Drive and relief programs due to the COVID-19 crisis (second grant) |
| American Red Cross of the Central Coast | $10,252 | COVID-19 Antibody Testing |
| ARIEL Theatrical | $15,000 | Support for program and staffing gaps due to the COVID-19 crisis |
| Arts Council for Monterey County | $20,000 | Emergency support for artists |
| Arts Council for Monterey County | $25,000 | COVID-19 distance learning for arts education |
| Arts Council for Monterey County  | $30,000 | Financial support for individual artists |
| Beacon House | $30,000 | Continuing treatment scholarship fund |
| Blind & Visually Impaired Center of Monterey County, Inc. | $12,000 | Support for program revisions due to the COVID-19 crisis |
| Boys & Girls Clubs of Monterey County | $15,000 | Nutrition support for families – COVID-19 response |
| Boys & Girls Clubs of Monterey County | $25,000 | COVID-19 organizational support |
| Boys & Girls Clubs of Monterey County | $25,000 | COVID-19 supplies, signage and summer learning kits |
| Breast Cancer Assistance Group of Monterey County | $20,000 | Increased special needs grant requests due to COVID-19 |
| Breast Cancer Assistance Group of Monterey County | $30,000 | Continued special needs grant requests due to COVID-19 |
| Breast Cancer Assistance Group of Monterey County | 15,000 | Special needs grants |
| California Coastal Rural Development Corporation | $20,000 | COVID-19 operational support |
| California Rural Legal Assistance, Inc | $30,000 | Increase access to unemployment benefits for workers impacted by COVID-19 |
| Carmel Foundation | $20,000 | Low-income housing for seniors |
| Carmel Foundation | $13,900 | Curbside meals to go for seniors |
| Caroline's Pantry Inc. | $10,000 | Food distribution program (North Monterey County) |
| CASA of Monterey County | $15,000 | Operating support – foster youth advocacy program impacted by COVID |
| Castroville Coalition | $10,000 | Direct support for North Monterey County residents |
| Catholic Charities of the Diocese of Monterey | $30,000 | Direct financial assistance |
| Catholic Charities of the Diocese of Monterey | $30,000 | COVID-19 support for families and funeral costs |
| Center for Community Advocacy (DBA CCA) | $20,000 | COVID-19 Community Outreach Support |
| Center for Community Advocacy (DBA CCA) | $30,000 | COVID-19 Community Outreach Support |
| Central Coast Center for Independent Living | $30,000 | COVID-19 food and housing support for residents with disabilities |
| Central Coast VNA & Hospice | $12,000 | Emergency medical supplies for clinicians |
| Central Coast VNA & Hospice | $12,400 | Emergency medical supplies for clinicians (second grant) |
| Central Coast YMCA | $50,000 | Emergency child care for Monterey County essential workers due to COVID-19 |
| Centro Binacional para el Desarrollo Indigena Oaxaqueño | $10,000 | Support for program gaps due to the COVID-19 crisis |
| CHISPA | $20,000 | COVID-19: Resident Relief |
| CHISPA | $30,000 | COVID-19 CHISPA emergency relief funds |
| City of Gonzales | $30,000 | Gonzales Together program: emergency support for families (Gonzales and Chualar) |
| Coalition of Homeless Services Providers | $50,000 | Project Refuge: motel housing for vulnerable homeless individuals |
| Coalition of Homeless Services Providers | $26,000 | Countywide sanitation stations for people experiencing homelessness |
| Coalition of Homeless Services Providers | $30,000 | Sanitation stations |
| Coastal Kids Home Care | $25,000 | Capacity building for COVID -19 |
| Community Association of Big Sur | $30,000 | COVID-19: Direct support for unemployed in Big Sur |
| Community Association of Big Sur | $30,000 | COVID-19: Direct support for vulnerable individuals and families in Big Sur (second distribution) |
| Community Association of Big Sur | $30,000 | Food Insecurity in Big Sur |
| Community Bridges | $10,000 | Direct support for individuals and families ineligible for unemployment benefits in Monterey County |
| Community Bridges | $20,000 | Vaccination Enrollment Program in Monterey County |
| Community Homeless Solutions | $30,000 | Expansion of homeless shelter and housing services due to COVID-19 in Monterey County |
| Community Homeless Solutions | $30,000 | COVID-19 operating support, washer/dryer, and hotel vouchers |
| Community Homeless Solutions | $30,000 | Operating support |
| Community Human Services | $30,000 | Operating support –  COVID-19 response |
| Community Partnership for Youth | $10,000 | COVID-19 support for students and families |
| Community Partnership for Youth | 50,000 | on campus and remote mentoring, tutoring and student support |
| Dentistry 4 Vets | $15,000 | COVID-19 support: personal protective equipment |
| Dentistry 4 Vets | $5,000 | COVID-19 organizational support |
| Door to Hope | $15,975 | Direct support for clients – COVID-19 response |
| Easter Seals Central California | $15,000 | COVID-19 expenses (Monterey County) and operating support |
| Eden Housing, Inc. | $19,900 | Emergency fund to support low-income tenants (Monterey County) |
| El Pajaro Community Development Corporation | $30,000 | Emergency loan program for Monterey County micro and small businesses |
| Elkhorn Slough Foundation | $20,000 | COVID-19 Healthy Lands, Helping Hands program support |
| Everyone's Harvest | $10,000 | COVID-19 organizational support for safe access to healthy food |
| Family Service Agency of the Central Coast | $20,000 | COVID-19 support for suicide prevention services |
| First 5 Monterey County | $30,000 | Essential supplies for families with children 0-5: (diapers, wipes, formula) |
| Food Bank for Monterey County | $50,000 | Emergency food assistance for COVID-19 health crisis |
| Food Bank for Monterey County | $50,000 | Emergency food assistance for COVID-19 health crisis |
| Food Bank for Monterey County | $50,000 | Additional emergency food assistance for COVID-19 health crisis |
| Foundation for Monterey County Free Libraries | $12,000 | Safe reopening |
| Franciscan Workers of Junipero Serra | $37,000 | Serve homeless clients and provide special care and education for COVID-19 |
| Franciscan Workers of Junipero Serra | $69,687 | Dorothy's Place – Phase II COVID-19 relief |
| Franciscan Workers of Junipero Serra | $52,700 | Dorothy's Place housing unit repair |
| Gateway Center of Monterey | $10,000 | Program support (equipment, games, personal protection equipment) – COVID-19 response |
| Gateway Center of Monterey | $7,000 | Personal protection equipment |
| Gathering for Women-Monterey | $20,000 | Wellness support for homeless women |
| Gathering for Women-Monterey | $30,000 | COVID-19 operating support |
| Hartnell College Foundation | $30,000 | Emergency relief scholarships and technological support |
| Hartnell College Foundation | $30,000 | COVID-19 financial and mental health aid |
| Health Projects Center | $30,000 | COVID-19 organizational and program support |
| Hollister Youth Alliance | $20,000 | Direct support for low income San Benito County residents |
| HumanGood Foundation West | $25,000 | COVID-19 Cupboards of Care support: Pacific Meadows |
| Independent Transportation Network Monterey County | $20,000 | COVID-19 collaborative meal delivery program for seniors |
| Interim, Inc. | $11,000 | Support for bedding, clothing, and food gaps due to the COVID-19 crisis |
| Jacob's Heart Children's Cancer Support Services | $25,000 | Emergency financial assistance for medically fragile children in Monterey County |
| Jacob's Heart Children's Cancer Support Services | $30,000 | Direct and programmatic support for families |
| Jews Christians Muslims United | $5,000 | Food/supplies for Abraham's Tent feeding program |
| Kidpower Teenpower Fullpower | $20,000 | Social-Emotional safety skills training – COVID-19 response |
| Kidpower Teenpower Fullpower | $10,000 | From Trauma to Thriving: Social-Emotional, Mental Health Programs |
| Kinship Center, A Member of Seneca Family of Agencies | $10,000 | Emergency fund to support kin caregivers and children – COVID-19 response |
| Kinship Center, A Member of Seneca Family of Agencies | $10,000 | Emergency fund to support vulnerable children and families – COVID-19 response |
| Kinship Center, A Member of Seneca Family of Agencies | 15,000 | COVID-19 operating support |
| Kinship Center, A Member of Seneca Family of Agencies | 15,000 | Support for Monterey County foster-involved youth |
| Lambourne Institute for Life Mastery | $9,000 | Food security assistance for families |
| Learning Time, Inc. | $5,000 | COVID-19 Remote based program support |
| Legal Services for Seniors | $15,000 | Legal services and outreach |
| Loaves, Fishes & Computers | $18,000 | Computers for low-income families |
| Loaves, Fishes & Computers | $30,000 | Computers for low-income families (second grant) |
| Marketplace Meets Mission dba Love Our Central Coast | $20,000 | Homeless feeding and hygiene kits for encampments |
| Martha's Kitchen | $10,000 | Monterey County Meal Program |
| Meals on Wheels of the Monterey Peninsula | $25,000 | Support for program gaps due to the COVID-19 crisis |
| Meals on Wheels of the Monterey Peninsula | $30,000 | Home Delivered Meals Program for the Monterey Peninsula |
| Meals on Wheels of the Salinas Valley | $25,000 | Support for program gaps due to the COVID-19 crisis |
| Montage Health Foundation | $50,000 | COVID-19 vaccine clinic support |
| Monterey College of Law | $21,880 | Legal and mediation services for low and no-income Monterey County residents – COVID-19 response |
| Monterey County Association of Families Caring for Children | $10,000 | Basic needs for foster parents in Monterey County |
| Monterey County Health Department | $36,000 | Increase COVID-19 laboratory testing capacity |
| Monterey County Office of Education | $30,000 | Closing the digital divide for Monterey County schools |
| Monterey County Rape Crisis Center | $20,000 | COVID-19 operational support |
| Monterey County Symphony Association | $25,000 | COVID-19 Organizational Support |
| Monterey Museum of Art | $25,000 | COVID-19 organizational support |
| Monterey Peninsula College Foundation | $30,000 | COVID-19 Student Relief Program |
| Monterey Peninsula Unified School District | $30,000 | Temporary shelter and basic needs for homeless students and families |
| National Center for Youth Law | $20,000 | Support for youth experiencing homelessness |
| National Laboratory for Education Transformation | $29,250 | Monterey County Online Algebra Boot Camp |
| Natividad Medical Foundation | $29,500 | COVID-19 emergency resources for limited English proficient/indigenous people |
| Natividad Medical Foundation | $30,000 | COVID-19 prevention program for farm workers |
| Natividad Medical Foundation | $30,000 | Free COVID-19 testing for farmworkers |
| Natividad Medical Foundation | $25,132 | COVID-19 testing and prevention equipment |
| Natividad Medical Foundation | $22,000 | COVID-19 vaccine distribution freezer |
| Neighbors Helping Neighbors | $10,000 | Food distribution and senior lunch programs (Aromas) |
| North Monterey County Unified School District | $5,500 | Wi-Fi tablets |
| Order of Malta Western Association | $5,000 | Hygiene Kit distribution in Monterey County |
| Orphan Productions | $21,845 | COVID-19 support for Safe Parking Program |
| Outreach Unlimited | $15,000 | I-HELP program on the Monterey Peninsula related to COVID-19 |
| Outreach Unlimited | $16,000 | I-HELP Covid-19 continued support |
| Pajaro Valley Prevention & Student Assistance | $15,000 | Covid-19 relief to cover Related-Mental Health Impact |
| Palenke Arts | $25,000 | Emergency financial support for immigrant families (Seaside) |
| Palenke Arts | $25,000 | COVID-19 organizational support |
| Palenke Arts | $5,000 | COVID-19 organizational support |
| Partnership for Children | $20,000 | Emergency financial assistance children in Monterey County |
| PG Steam | $5,000 | COVID-19 face masks |
| Planned Parenthood Mar Monte | $20,000 | COVID-19 organizational support |
| Rancho Cielo | $17,500 | Rancho Cielo Emergency Food Bag Program |
| Rights Counsel (DBA: Immigrants Rights Counsel) | $30,000 | COVID-19 operational support |
| Rights Counsel DBA: Immigrants Rights Counsel | $30,000 | COVID-19 operating support |
| Rights Counsel DBA: Immigrants Rights Counsel | $30,000 | COVID-19 operating support |
| Sabu Shake Sr Memorial Foundation | $13,000 | Meals – homeless community, Salvation Army transitional housing residents and hospitality workers |
| Salinas Valley Memorial Hospital Foundation | $30,000 | COVID-19 support for patients and staff of SVMHS |
| Salvation Army Monterey Peninsula Corps | $50,000 | Direct financial assistance |
| Salvation Army Monterey Peninsula Corps | $30,000 | Additional COVID-19 family relief |
| Salvation Army, Salinas Corps | $50,000 | Direct financial assistance |
| Salvation Army, Salinas Corps | $50,000 | Meals for homeless in Salinas warming shelter and encampments |
| Salvation Army, Salinas Corps | $30,000 | Feeding program |
| Santa Cruz Community Ventures | $25,000 | Direct financial aid for undocumented workers and families in Monterey County |
| Santa Cruz Community Ventures | $50,000 | COVID-19 operating and program support |
| Santa Cruz Community Ventures | $50,000 | COVID-19 operating and program support |
| Santa Cruz Community Ventures | $30,000 | COVID-19 program support |
| Second Harvest Food Bank Santa Cruz County | $10,000 | Pajaro Valley COVID-19 relief |
| Sol Treasures | $5,000 | Support for program gaps due to the COVID-19 crisis |
| Sol Treasures | $25,000 | COVID-19 organizational support |
| Southern Monterey County Memorial Hospital dba Mee Memorial Hospital | $30,000 | Emergency medical funding |
| Southern Monterey County Memorial Hospital dba Mee Memorial Hospital | $27,000 | Ultra-cold freezer |
| Special Kids Connect | $10,000 | COVID-19: academic support for children with special needs |
| St. Vincent de Paul Society, Sacred Heart Parish | $6,000 | Increase food allocation and provide appropriate sanitation supplies |
| St. Vincent de Paul Society, Sacred Heart Parish | $12,000 | Food pantry support |
| St. Vincent de Paul Society, Sacred Heart Parish | $12,000 | COVID-19 food distribution |
| St. Vincent de Paul Society, Sacred Heart Parish | $15,000 | Food bank support |
| Sun Street Centers | $24,300 | COVID-19 Food, safety, and communication supplies |
| Sun Street Centers | $30,000 | COVID-19 food, safety, and communication supplies |
| The Marina Foundation | $5,000 | Marina Seniors Emergency Fund |
| The Marina Foundation | $10,000 | Senior meals program (Marina) |
| The Village Project, Inc. | $10,000 | Direct assistance for After School Academy families affected by layoffs |
| The Village Project, Inc. | $25,000 | COVID-19 organizational support |
| This Club Saves Lives | $5,000 | Weekly food boxes to families in Big Sur and Carmel Valley |
| UFW Foundation | $30,000 | Staff assistance to aid farm workers in Monterey County |
| United States Healthful Food Council, Inc. DBA Eat REAL | $5,000 | COVID-19 face masks for Monterey County school food service workers |
| United Way Monterey County | $30,000 | Informal Child Care Providers (Family, Friends and Neighbors) Relief Program |
| United Way Monterey County | $10,000 | COVID-19 vaccine registration support – 211 Call Center |
| Valley Health Associates | $29,625 | Mobile Clinic – substance and opioid disorders treatment |
| Veterans Transition Center | $30,000 | Food pantry |
| YWCA Monterey County | $30,000 | Adaptation of existing programs to ensure 24/7 safety of our Domestic Violence Shelter |
| YWCA Monterey County | $30,000 | COVID-19 undocumented workers program support |
Read our Responding to COVID-19 blog for resources for individuals, nonprofits and businesses:
Updated April 30, 2020