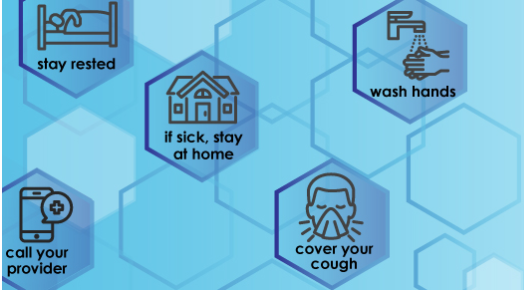 Responding to COVID-19
The Community Foundation for Monterey County is concerned with the well being of its staff, donors, nonprofit partners and the residents of Monterey County impacted by COVID-19.
The President announced a Federal Emergency Declaration March 13, 2020. The County of Monterey has issued a proclamation of a local emergency and Shelter in Place measures. The Monterey County Operation Area Emergency Operations Center is supporting the Health Department and local health partners.
On March 19, 2020 California Gov. Gavin Newsom issued a stay at home order until further notice, except as needed to maintain continuity of operation of the federal critical infrastructure sectors. (See the list of Essential Critical Infrastructure Workers). 
We are following precautions, and hope you find the following resources helpful. We will update as more resources and information becomes available. (Updated 3/27/2020)
Steps You Can Take
Keep yourself and your community healthy and safe. Follow mandatory Shelter in Place protocols in Monterey County through midnight April 8, 2020 (unless otherwise updated). Most of the steps people take each year to protect themselves against seasonal flu will help reduce the spread of COVID-19: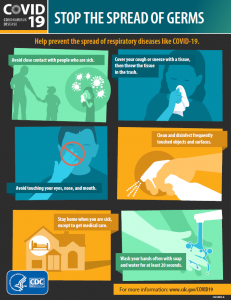 • Wash your hands regularly with soap and water for at least 20 seconds.
• Avoid touching your face with your hands.
• Clean and disinfect frequently touched surfaces and objects often.
• Stay at least 6 feet away from a person who is ill.
• Observe the stay at home order. If you are sick and concerned about possible exposure, call your health provider or the number on the back of your insurance card.
Be Informed
The best thing we can do is be informed and prepared.
State of California website and public service announcements to boost COVID-19 awareness
The Centers for Disease Control and Prevention (CDC) is the most reliable source of information for individuals. You will find specific information here:
COVID-19 is not specific to any racial or ethnic community, but some residents of our region are already facing increased racism and discrimination.
Community resiliency and interpersonal relationships are important in times of emergency – do you have a phone tree or email list to stay informed and to check on your family, friends and neighbors?
Resources for Nonprofit Organizations
Whether you are guiding staff about travel or remote work arrangements, wondering what other groups are doing in response to COVID-19, fielding donors' questions about your nonprofit's response or the impact on planned events, or worrying that the virus will dampen your fundraising, these online resources may help guide your organization. Please take the needs survey to let us know what would be helpful to you.
What can I do? What's open?

What can I do? What's open?

Essential services will remain open, such as:

Gas stations
Pharmacies
Food: Grocery stores, farmers markets, food banks, convenience stores, take-out and delivery restaurants
Banks
Laundromats/laundry services
Essential state and local government functions will also remain open, including law enforcement and offices that provide government programs and services.

We are following precautions, and hope you find the following resources helpful. We will update as more resources and information becomes available –  3/27/2020

If You/Your Family Needs AssistanceIf Your Work is ImpactedIf Your Housing is ThreatenedIf Your Business Needs Financial AssistanceTrusted Sources of InformationTax AssistanceNon-Government Assistance for COVID-19