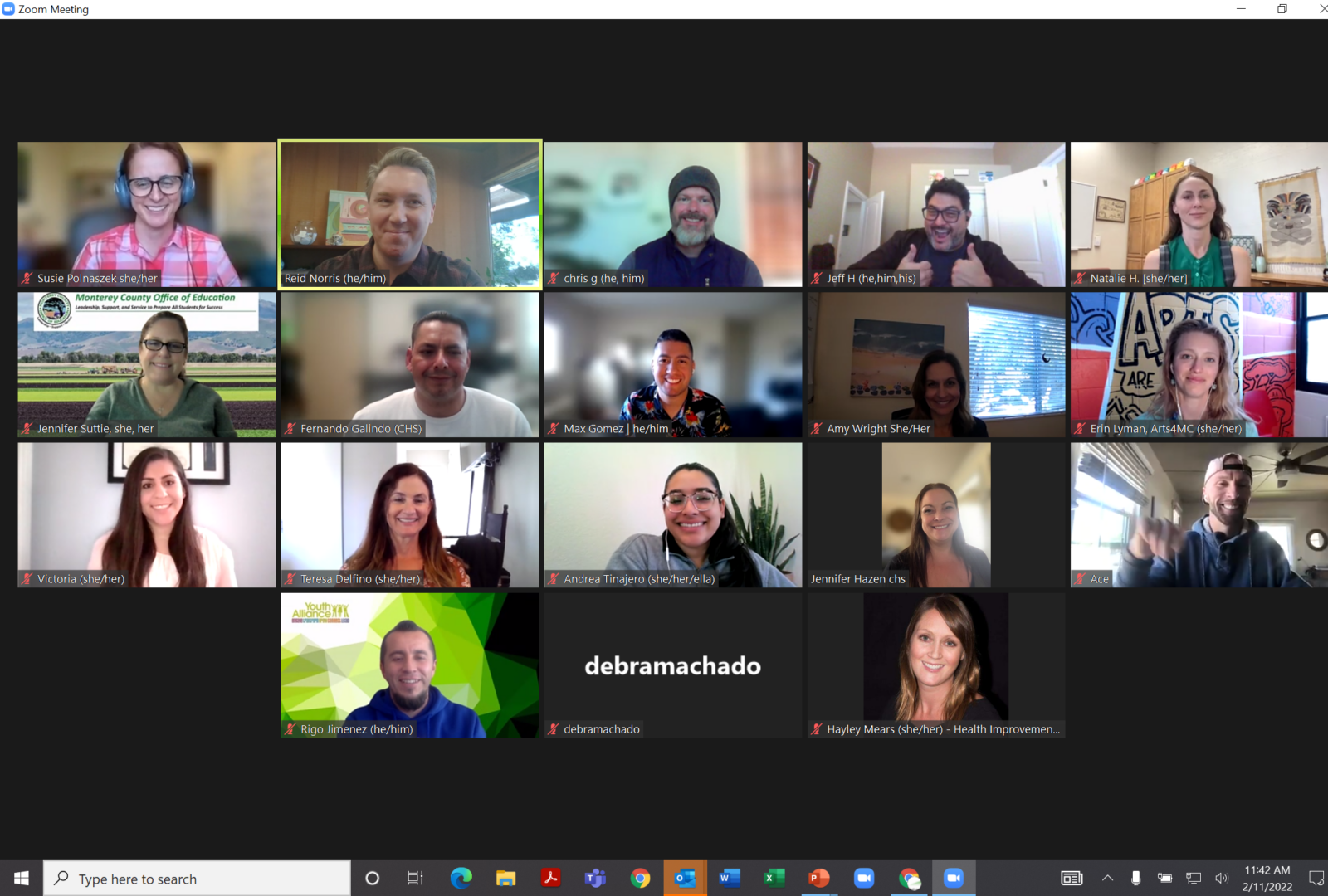 2022 LEAD Institute Announced
15 Nonprofit Leaders from Monterey, San Benito and Santa Cruz Counties to participate in year-long professional development program
The Community Foundation for Monterey County (CFMC) selected 15 emerging nonprofit managers to join the LEAD (Leadership, Education and Development) Institute's 2022 cohort. LEAD is a year-long professional development institute offered by the CFMC's Center for Nonprofit Excellence to foster strong, effective leadership in the local nonprofit sector.
This year's LEAD Institute features 15 nonprofit professionals from diverse fields of nonprofit activity, including the arts, education, health and human services. The 2022 class includes participants from nonprofits based in Monterey, San Benito, and Santa Cruz counties. They join a network of over 160 nonprofit leaders who have engaged with LEAD since it launched in 2009.
"We are emerging from a time of acute isolation for many, and the support and connection of this LEAD cohort could not be more timely or valuable for nonprofits. LEAD is a brave space to learn and grow in leadership with the support of coaches and one another. The Community Foundation is proud to continue its investment in these essential leaders," said Susie Polnaszek, Director, Center for Nonprofit Excellence.
2022 LEAD Institute participants:
Monterey County
Amy Wright, Director of Operations, Gateway Center of Monterey
Andrea Tinajero, Agriculture Education Program Manager, ALBA
Debra Machado, HR Director, Gateway Center of Monterey
Erin Lyman, Community Engagement Manager, Arts Council for Monterey County
Chris Graveline, Directory of Recovery Services in South County, Sun Street Centers
Jeff Hinderscheid, Executive Director, Sol Treasures
Jennifer Hazen, Program Officer II, Community Human Services Off Main Clinic
Jennifer Suttie, Program Coordinator II – Grants, Monterey County Office of Education
Natalie Herendeen, Executive Director, Center for Community Advocacy
Victoria Jimenez, Associate Program Director Sunflower Gardens, Interim Inc.
San Benito and Santa Cruz County
Ace Koski, Managing Director, Live Like Geno Foundation
Fernando Gallindo, Program Coordinator, Community Homeless Solutions
Hayley Mears, Workforce Development Program Manager, Health Improvement Partnership of Santa Cruz
Rodrigo Jimenez, Associate Director, Justice & Leadership, Youth Alliance
Teresa Delfino, Director of Finance and Human Resources, Habitat for Humanity Monterey Bay   
LEAD is designed to maximize the leadership potential of capable nonprofit managers through monthly leadership and professional development seminars. The LEAD Institute emphasizes individualized professional growth, personal coaching sessions, and builds leaders who are prepared to lead diverse communities. LEAD participants gain new insights and abilities that can be harnessed to address changing community needs and allow them to assume greater leadership roles.
About the Center for Nonprofit Excellence of the Community Foundation for Monterey County
The Center for Nonprofit Excellence works with local nonprofits of all types and sizes to be stronger, more resilient and equitable. It helps staff, boards and volunteers make meaningful connections to resources and one another. For more information on LEAD Institute or other nonprofit resources, visit www.cfmco.org/CNE or call 831.375.9712.
About the LEAD Institute
Facilitated by Reid Norris, Leadership Development Specialist, LEAD is an annual leadership development program of the Community Foundation for Monterey County for nonprofit leaders. Applications for LEAD 2023 will be available in Summer 2022. For information or to apply, visit: www.cfmco.org/lead.
The mission of the Community Foundation for Monterey County is to inspire philanthropy and be a catalyst for strengthening communities throughout Monterey County.