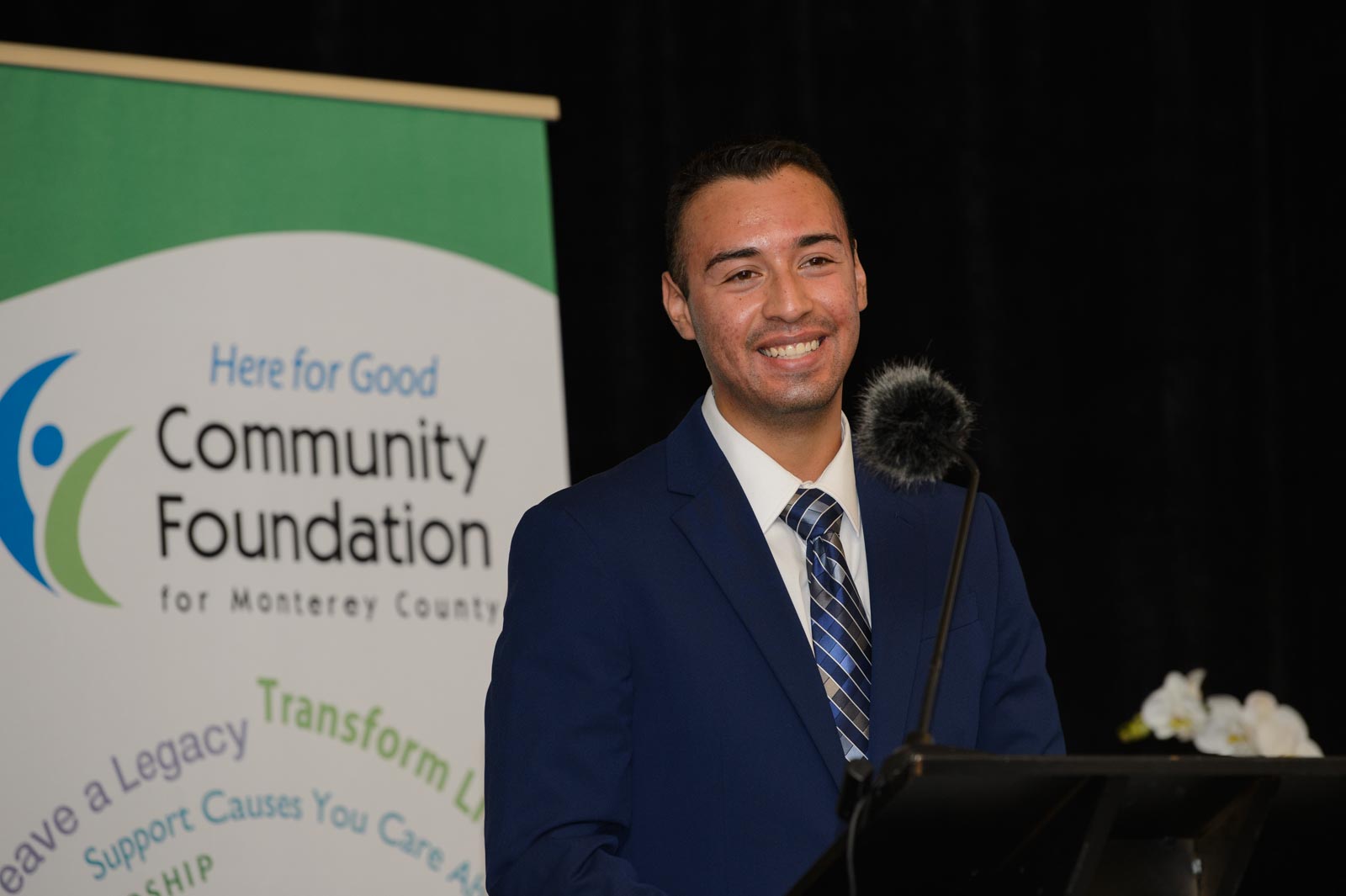 My Scholarship Story: Ismael Rocha
Ismael Rocha, College Futures Monterey County Scholarship Recipient, has gone from high school student dreaming of attending college to living his dream and now, giving back. 
I can assure you that your investment in people like me will be one of the best ones you can ever make. I can assure you all that I will not let you down and I will persevere in my education. My success will reflect my words and I want to thank every single person who makes this scholarship possible. – Ismael Rocha, Scholarship Recipient
The King City native and California State University, Monterey Bay Kinesiology student is in his final year at CSUMB with plans to attend graduate school. Ismael spoke about his scholarship journey (see video).
In his own words – Ismael's Story 
Ismael shared his full story earlier with Community Foundation for Monterey County supporters at its annual Celebration of Philanthropy. He brought his younger brother Allen with him to share what's possible with the support of those who believe in you. See full remarks below.
"I'm very happy to be here to share what getting a scholarship means to me. I honestly thought that going to college was not something I would be able to afford because I come from a humble agricultural family. Both my parents immigrated to the U.S. and since they arrived they have been working in agriculture for over 20 years. They would always tell me to study hard, so I won't end up in the fields.
Putting in the Hard Work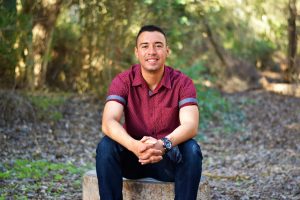 I graduated from King City High School and I love running, biking, photography and helping others, especially young people. I am highly competitive and will not stop at what I am doing and work hard until I succeed. In high school I developed leadership skills and the mindset to prepare me for challenges I will face in the real world.
I worked in the fields as an irrigator and other jobs for two summers and part of my freshman year at college. That made me value my money and learn to save. It's not easy earning money, especially working in the cold or blazing sun. My parents told me that they would help pay for my education, but when I saw the prices I knew that it would be nearly impossible to pay for college, rent, and to provide for 3 other siblings. So, money was the biggest fear I had. I did not know what to expect for the whole financial aid process or college life.
One of the best things I could ever ask for was when Esther Figueroa, the student support specialist, came to King City High School and told us about the College Futures Monterey County Scholarship.
I knew that if I got that scholarship it would be a huge help, so I applied and ended up earning it.
I am the first person in my family to attend college. My brother, Allen, whose here tonight, is already following in my footsteps.
Student Support
In addition to the scholarship, Esther provided so much support for us college bound students though the College Futures program. She constantly checked up on us to see if we applied. Once we applied, she would check if we accepted. Esther also followed up on how we are doing in classes and to see if we needed anything. She was always reminding us of deadlines and she was that support many college students do not have. I really want to thank her for being there for us. She can't be here because she's leading a workshop for students and parents at King City High tonight!
Once it came time to pay college expenses, I realized the housing and meal plan were too expensive, so I attended CSUMB from King City, commuting to school twice a week my first year. I got lucky this semester with another Tuesday and Thursday schedule. This scholarship is huge because thanks to careful budgeting, I was able to pay upfront for my classes this year.
Giving Back
I chose kinesiology as my major because one of my King City high school coaches, really inspired me, and still does to this day. He went through the CSUMB Kinesiology program and spoke well about it and I absolutely love our department. I volunteered as a track and field coach at King City High School this past spring because I love the sport so much and I love giving back to my community. My future goals are to become a P.E. teacher at a high school or a kinesiology professor at the college level and to be able to coach. Those are two things that I am very passionate about.
I can't thank the scholarship donors enough for giving to the best foundation ever, because it truly helps us students succeed and takes some weight off our shoulders. I was lucky enough to meet Steve and Marti Diamond at the community foundation meet up this past summer. They are some of the nicest and most humble people I have ever met, and they also shared lots of knowledge and great advice that I took to heart. It's people like them that make the scholarship possible, and they are investing in our education without knowing who we are or what we plan to do in college."
I believe that everyone should apply to this awesome scholarship because it can truly change your life. I chose to work even though I received the scholarship because I want to have as much money saved up as possible to pay for my classes and graduate.
I can assure you that your investment in people like me will be one of the best ones you can ever make. I can assure you all that I will not let you down and I will persevere in my education. My success will reflect my words and I want to thank every single person who makes this scholarship possible from the donors, to the people reaching out to students, and the people behind the scenes."
If it weren't for all the people who supported this, then I would not be in the place I am right now. The fact that I'm going to college to learn about something I love is surreal, and is made possible thanks to the Community Foundation Scholarship. Thank you very much to all the people who have got me this far.
Ismael Rocha will graduate CSUMB in 2021 and is planning to apply to graduate school. The CFMC awards more than $1.8 million annually to more than 375 students like Ismael. To give or apply, visit cfmco.org/Scholarships.