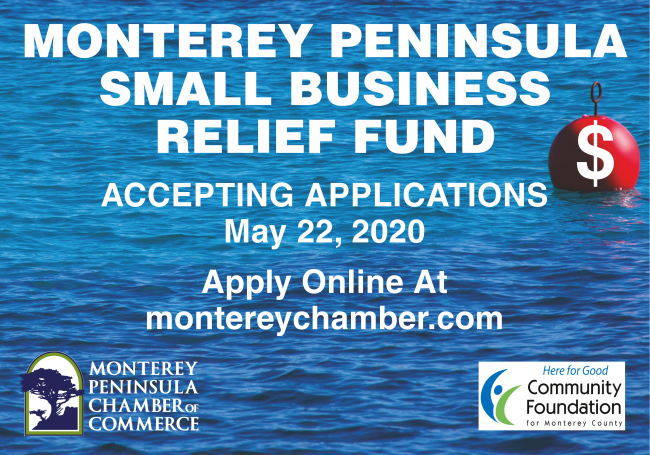 Monterey Peninsula Small Business Relief Fund
Background
The novel coronavirus (COVID-19) pandemic is unprecedented and unpredictable, which has led to a global and national crisis with public health and economic impacts. The March 17, 2020 Monterey County Shelter-In-Place Order shuttered many businesses, and negatively impacted those that stayed open. Federal and state governments have offered COVID-19 economic stimulus programs; these are limited programs with eligibility requirements that may be difficult to achieve for many small businesses.
The Monterey Peninsula Small Business Relief Fund ("the Fund") was created to help bridge the gap. It will be administered under the auspices of the Community Foundation for Monterey County and the Monterey Peninsula Chamber of Commerce. Both organizations will work jointly to assist the donors (private donors, foundations and municipalities) in providing grants and/or loans to assist small businesses to remain viable. Loans will be entirely administered by the party that provides such benefit.
Objective
The objective is to augment Federal, State and local aid by financially supplementing Monterey Peninsula businesses in hopes of reducing business closures and workforce layoffs, sustaining the local economic base and stimulating an early economic recovery." – Frank Geisler, CEO Monterey Peninsula Chamber of Commerce
The priorities will be on hospitality, retail, and trades. Should the Fund receive money from municipalities in other parts of Monterey County, priorities for those assets will adapt to their local business environment. Funds will be used for working capital, business expenses, including: payroll, rent, inventory, supplies/materials utilities, training, professional services and more. Preference will be given to those businesses which commit to and have the most likely chance of reopening after the release of the SIP orders.
Funding
Funding
The Fund will accept donations from private individuals, businesses, and foundations and work with local municipalities to facilitate their reinvestment programs. Gifts that have no geographic restrictions are eligible to be granted to any small business based on the Monterey Peninsula (Marina, Seaside, Del Rey Oaks, Sand City, Monterey, Pacific Grove, Carmel, and the unincorporated areas of Pebble Beach, Carmel Valley and Big Sur); Funds from municipalities will likely be restricted to businesses that fall within the boundaries of the municipality that has added to the Fund. The Fund will honor any restrictions associated with these funds.

Process
Process
An Administrative Oversight Committee has been formed to develop the guidelines, eligibility criteria, application form, performance requirements and disbursements from the Fund. The process, end-to-end, is intended to facilitate rapid deployment of capital to locally owned businesses in need which will likely be able to reopen or continue to operate as allowed under governmental orders.

You Can Help – Ways to Give
• Make a secure, tax-deductible online donation
• Mail a check payable to "Community Foundation for Monterey County" with "Monterey Peninsula Small Business Relief Fund"
in the memo to: Community Foundation for Monterey County, 2354 Garden Road, Monterey, CA 93940
• Make a gift of stock. Please contact Christine Dawson or call 831.375.9712 x126 for instructions.
• If you are a CFMC donor advisor, you can request a grant through Donor Central or contact your Philanthropic Services Officer to make a grant.
• Call 831.375.9712 Monday through Friday to donate by phone.
Learn More or Apply
Visit the Monterey Peninsula Chamber Website for details or to apply.