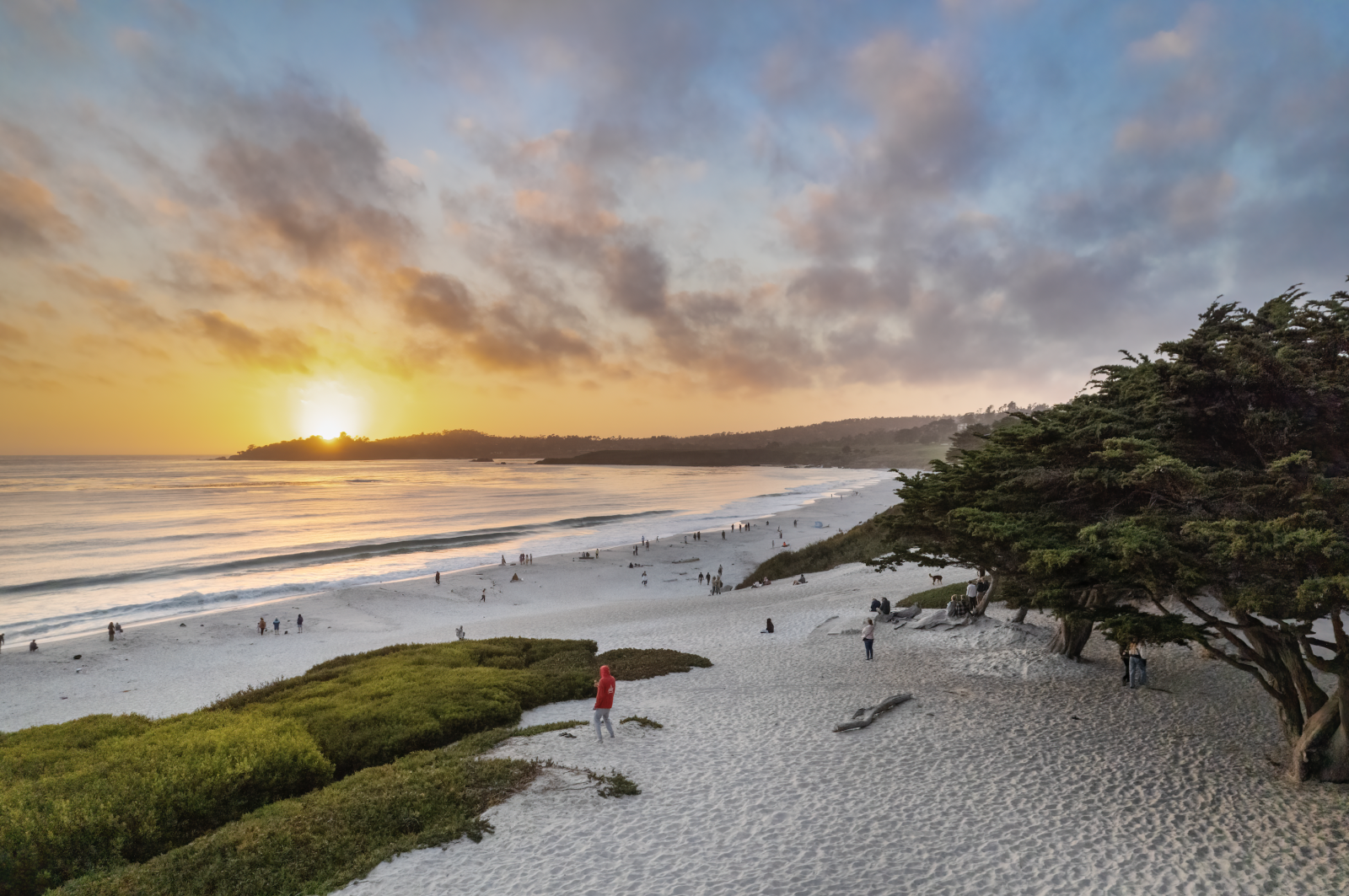 Carmel Cares Fund
Mission

The mission of the Carmel Cares Fund is to support those projects and programs that are aligned with keeping Carmel-by-the-Sea a beautiful, safe, and inviting place. Working with Carmel Cares, the fund is committed to making sure that Carmel Beach, the Scenic Pathway, and other important Carmel public spaces are maintained in pristine condition. Carmel Cares partners closely with the City of Carmel's Public Works Department and other nonprofit organizations to make a difference in the Village.
Programs and Projects Include:

Median Minders — Allows citizens to adopt, clean, plant, and maintain their own median island, easement, bump-out or other unique space in Carmel. This empowers individuals or a neighborhood group to transform their neighborhood into a Carmel treasure!
Tree Tenders — Enables individuals or families to care for an oak or pine tree seedling in a pot for around two years, until it is ready to be planted in Carmel's urban forest. This includes education on Carmel's urban forest and sharing of progress with other Tenders.
Pick Up Posse — Individuals participate in organized litter reduction walks on a specific day in one of five regions around the community. Carmel Cares provides tools, T-shirt, and training. Allows for Carmelites to be part of an effort to make Carmel a "Leave No Trace Behind" and "Litter-Free" community. This will soon become a key part of Carmel Cares "Keep Carmel Beautiful" campaign as an affiliate of Keep American Beautiful.
Scenic Pathway Restoration and Maintenance Project — Locals can join a team of volunteer and professional landscape workers to improve this world-famous pathway and to keep it well-maintained. The team meets every Wednesday from 7:00 am to 12:30 pm and each person just brings gloves and can stay as long as they want. With benefits of getting a little exercise, a lot of fresh air and working in an area with world-class views, this may be the best volunteer job in the world!
Forest Theater Maintenance Project — Volunteers help keep the Forest Theater clean and well maintained and look after 40 young pine, oak, and cypress trees under the guidance of Friends of Carmel Forest. This group meets every Thursday from 9 am to 11 am and all tools are provided. When you leave every week there is always a feeling of a job well done and you'll attend your next Forest Theater event with a feeling of pride.
Devendorf Park Renewal and Maintenance Project — Working with Carmel's Public Works Department volunteers make incremental improvements to this lovely park and keep it well maintained. Views are being opened up and beautiful new garden areas are being created a little at a time in Devendorf and the adjacent garden areas at the Park Branch Library. We generally work on Tuesday mornings but the projects depend on receiving approval from Public Works and availability of materials.
Forest Hill Park Renewal and Maintenance Project (new) —  Volunteers can be a part of the research and planning to explore potential landscape and equipment improvements and assist Public Works with maintenance. This Park is an escape from the crowds and is quintessential Carmel.
Other Projects —  Volunteers can also be a part other smaller projects including Vista Lobos Park, Cherry Center for the Arts Sculpture Garden, the recently renovated "Police Plaza" and others that are envisioned. It is incredibly rewarding to create beautiful areas where locals and visitors can sit, relax and in some cases, enjoy spectacular views.
After seeing the success of Carmel Cares over the past year, my wife Margaret and I have decided to change our estate plan to support the Carmel Cares Fund. It is the only way to ensure Carmel's spectacular and priceless public spaces are sustained in perpetuity by having the required financial resources linked to an organization with the designated mission and skilled and City-authorized volunteers to get the job done." – Dale Byrne, President & Chief Caring Officer, Carmel Cares
Support Carmel Cares – Ways to Give
Those wishing to contribute to Carmel Cares can:
Mail a check payable to: "Community Foundation for Monterey County"
with "Carmel Cares Fund" in the memo line to: 2354 Garden Road, Monterey, CA 93940
Recommend a donor advised grant. If you are a CFMC donor advisor, you can request a grant through Donor Central or contact your Philanthropic Services Officer.
Make a gift by phone. Please call 831.375.9712 Monday through Friday from 8:30 a.m. to 5:00 p.m.
Make a gift of stock or an IRA Qualified Charitable Distribution (QCD) (Please call for instructions)
Include the Carmel Cares Fund in your estate plans. Please contact Christine Dawson or Andrea Scott, or call 831.375.9712 x126 for more information on ways to give.
Donations to the Carmel Cares Fund of the Community Foundation for Monterey County (CFMC) are tax deductible.
The CFMC is a 501(c)3 nonprofit organization, Tax ID #94-1615897.
Volunteer or Learn More

For volunteer opportunities or to learn more, visit CarmelCares.org.
Thank you for your support of Carmel Cares.