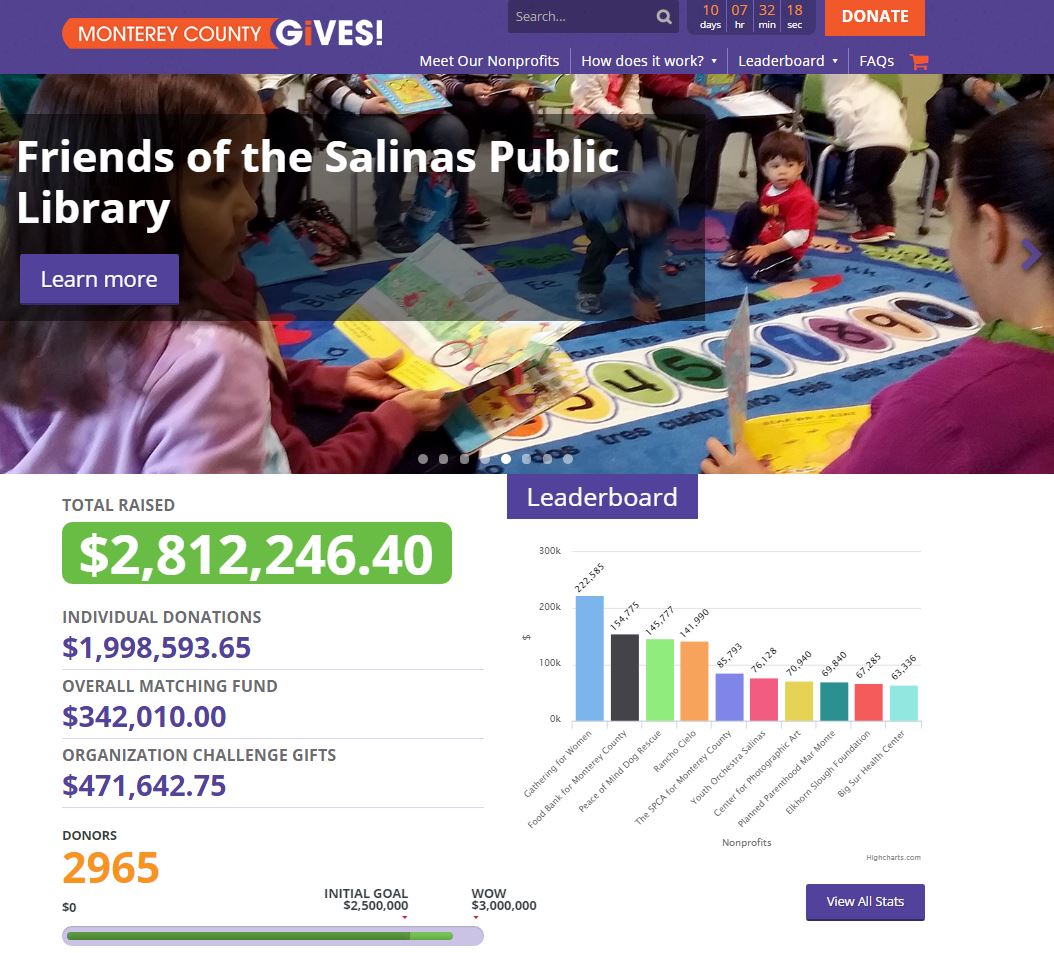 President's Blog: Year-End "Monterey County Giving"
Monterey County Giving
by Dan Baldwin, President/CEO Community Foundation for Monterey County
Year-end always seems to prompt thinking about what was accomplished over the past 12 months.  Our lives run at such warp speeds, that we move from one item to the next to the next, and so on. Every now and then we just need to take a breath and reflect.
But I just realized the year isn't over yet. So the heck with that.
Let's talk Monterey County Gives!  because it's happening right now. Gives, a three-way partnership with the CFMC, Monterey County Weekly and the Monterey Peninsula Foundation, has developed into in an indispensable year-end giving program that is providing much-needed funds to our nonprofit community.
Beating 2015?
In 2015, Gives! shattered all previous totals by attracting $3.2 million and 4,000 donors.  It was the first year the Monterey Peninsula Foundation joined the partnership, and they did so with a $200,000 grant. This created a marked increase in matching dollars, which, in turn, motivated more agencies to lead creatively their donors to Monterey County Gives!  Gives! parties.  Social media campaigns. The nonprofits are a huge part of making Gives! successful.
Entering 2016, we were reluctant to think we could repeat this success, even with another $200,000 grant from the Monterey Peninsula Foundation. But as I write this on December 21, we are running ahead of 2015 in both donors and dollars.
More than Giving
Gives! is mor

e than giving. It's also about awareness. The Monterey County Gives! website includes profiles and Big Ideas from the 123 participating nonprofits. Exploring the website is a great way to learn about the tremendous variety and quality of work being done by our nonprofit community. It is almost impossible to not be inspired to give.  It's like strolling through the grocery store…hmm…I think I'm in the mood to support the arts….save the environment….help local youth….and when you get to the check-out line, all you need is your credit card.
Acknowledging that I'm a philanthropy nerd, our family (my wife and whatever adult children are visiting) sits around the computer and makes our Gives! donations together.
Not only does it inevitably have us support a wider variety of organizations,  but it is passing the joy of philanthropy onto the next generation.
Now is the Time
Back to year end. Before you start reflecting too hard, think about how you can share your good fortune with nonprofits supporting very important causes. This is work that makes Monterey County stronger for all us. Then grab a glass of your favorite beverage, and include Gives! in your list of 2016 reflections.
Visit www.mcgives.com before midnight December 31, 2016 to view the giving opportunities, boost your giving and support the participating nonprofits.
MC Gives! Partners
Monterey County Gives! is a special project of the Monterey County Weekly Community Fund − a donor advised fund established in 2000 at the Community Foundation for Monterey County. Partners include the Community Foundation for Monterey County, the Monterey County Weekly and the Monterey Peninsula Foundation with the support of Neumeier Poma Investment Counsel, David and Lucile Packard Foundation, and Cannery Row Company. Sponsors are The Ausonio Family Fund, Doolittle Fund and Anonymous Donor Advised Fund of the Community Foundation for Monterey County