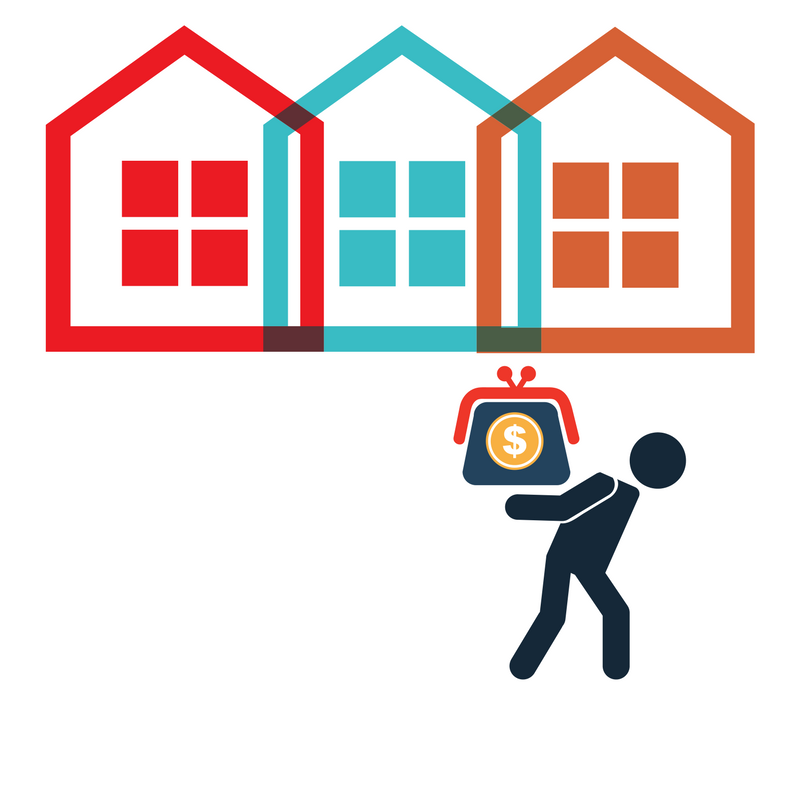 President's Blog-(Un)Affordable Housing
By Dan Baldwin, Community Foundation for Monterey County President & Chief Executive Officer
We think of housing as an inalienable right.
We get up. Work. Go home to a house or apartment we might own or rent. Whatever we can afford.
For many folks in Monterey County, it's not that simple.
The unfortunate reality in many parts of California, and certainly in Monterey County, is that many people who work full time cannot afford adequate housing." – Dan Baldwin, CFMC President/CEO 
Housing at the Center of Economic Survival
More and more folks may be working two jobs and still struggle with the cost of housing. And what of the homeless trying to get out of their desperate circumstance? In order to obtain housing they need a job, and, in many cases, in order to get a job they need housing.
Even substandard housing can be economically out of reach.
In many unfortunate cases, people are forced to pay substantial amounts to live in sheds, old motel rooms or garages. Houses and apartments are often filled with two, three and sometimes four families.
How does this happen?
Because Monterey County is an extremely expensive place to live, in part because there is not enough supply for the high demand on housing.
Demand forces prices up.  And there is a lack of affordable housing.
Defining "Affordable Housing"
The term "affordable housing" can mean just what it says—affordable being defined by market forces. However, "affordable housing" is also a governmental designation defined by the percentage of personal income being used for housing.
According to the US Department of Housing and Urban Development, housing for which the occupant(s) is/are paying no more than 30 percent of his or her income for gross housing costs, including utilities, is defined as affordable.
The average monthly rent for an apartment in the City of Monterey is $1,850. The average for a one bedroom, 623 square foot apartment is $1,805. Using the 30% threshold, that requires an income of $72,000. The average for Salinas is $1,521, converting to a required income of $60,840.
This means that low-wage workers cannot afford to live in these cities, and therefore must commute from places with lower housing costs.
The impacts are many, and show up in economic issues such as work force development and our ability to attract and grow businesses, making it more difficult for businesses today, and makes Monterey County less competitive in the future."– Dan Baldwin, CFMC President/CEO
Human & Environmental Impact
From a human service standpoint, it means many people are at risk of losing their housing, or live in substandard housing, their cars, or homeless encampments. This creates added governmental and nonprofit costs to deal with the issues that follow people who live in these circumstances.
There is even an environmental impact.  When employees can't afford to live near their workplace, they're forced into long commutes. Many of our service industry, hospitality and ag workers drive considerable distances twice each day. Not only does it add further stress on their limited economic resources, but it means literally thousands of cars traveling long distances, straining infrastructure and producing emissions.
If there are so many reasons to have affordable housing, why don't we?
Not all communities want affordable housing as they feel it lowers real estate values, and/or competes with market rate developments."
As we all know, in California, particularly on the coast, it is a difficult to develop, so projects with thinner profit margins aren't a priority, given the challenges of getting from concept to construction. Often neighborhoods stand up against affordable housing projects because of a stigma associated with those who live in them.
All these challenges contribute to a chronic shortage of affordable housing, and our region must to come to terms with it.  Some employers already have.
Local Employers Seek Solutions
Tanimura & Antle recently built a farmworker housing facility in Spreckels. Monterey Peninsula Unified School District announced they are looking into developing teacher housing. The Monterey Bay Economic Partnership has developed the Monterey Bay Housing Trust, and recently made its first loan to CHISPA (Community Housing Improvement Systems and Planning Association, Inc.) for a project in Castroville.
There is no easy or quick solution to our affordable housing challenges.
Solving this critical issue requires patience, planning, resources and resolve.
Waiting not only exacerbates the problem, it pushes the solution that much farther into the future.
Editor's Note: Lack of affordable housing plays a key part in homelessness in Monterey County. Since 2015, the CFMC has brought together nonprofit groups, city and county officials to talk about the work being done and help facilitate a shared vision. The CFMC has undertaken a similar process with affordable housing. Dan Baldwin is President/CEO of the Community Foundation for Monterey County, which holds more than 450 charitable funds and has total assets of  more than $220 million. In 2016 the CFMC granted $15 million to hundreds of nonprofits in Monterey County and beyond.