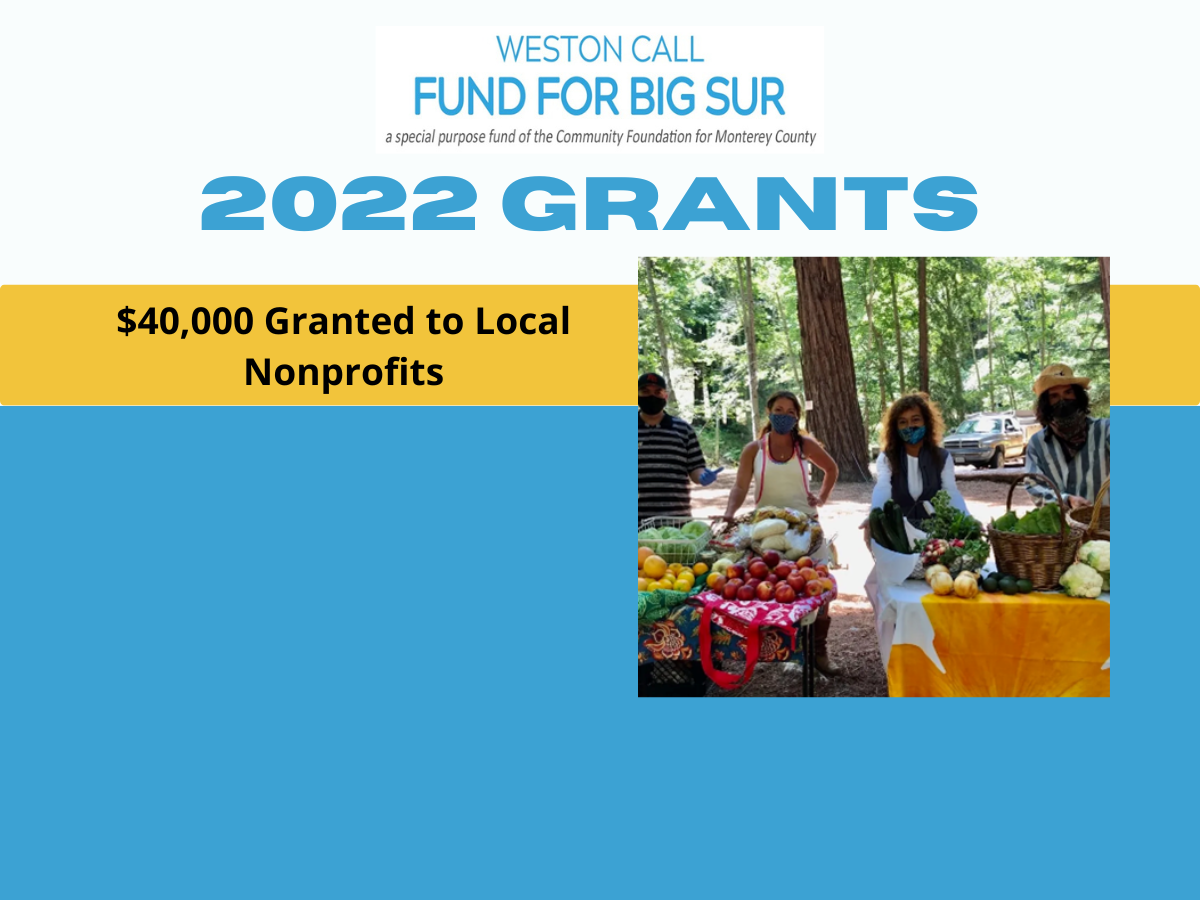 The Weston Call Fund for Big Sur Grants $40,000 to Nonprofits Serving Big Sur Area
The Weston Call Fund for Big Sur of the Community Foundation for Monterey County granted $40,000 in 2022 to 10 nonprofits focusing on projects and programs benefiting Big Sur residents from Mal Paso Creek to the Monterey County line. This brings the total granted from the fund to $86,755 since its inception in 2018.
"We are so grateful to those who have contributed to the Weston Call Fund for Big Sur," said Brian Call, Advisory Board Chair. "It allows us to continue the work of Weston in supporting the Big Sur community in impactful and meaningful ways."
The Big Sur Grange received a grant to support their community engagement program, which aims to bring crucial services directly to Big Sur residents at low or no cost, as well as make the grange hall available to local groups. Proposed services include CPR classes, a mobile vet, eye and hearing testing, arts and craft classes, "how to" clinics, yoga, meditation, fire safety and awareness, disaster training, adult literacy programs, ESL classes and legal clinics.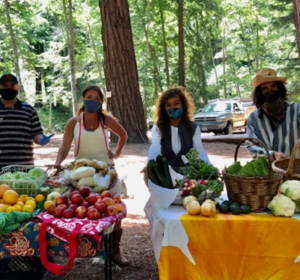 "Big Sur is a unique community. There are few places for the community to gather," said Sharon Petrosino, Big Sur Grange Secretary. "Our goal is to have educational, historical, cultural and artistic programs for the Big Sur community and to bring them to people at little to no cost." The Grange also hosts community events and programs including The Big Share, pictured – a program of Community Association of Big Sur that is also supported by this year's round of grants – who use the Grange space to provide food to Big Sur residents.
Nonprofits receiving grants from the Weston Call Fund for Big Sur in 2022 are:
Arts Council for Monterey County for social-emotional learning through art in Big Sur
Big Sur Fiddle Camp for their production of Sirena, the Musical
Big Sur Grange for their community engagement program
Big Sur Park School for early childhood support
Community Association of Big Sur for The Big Share program addressing food insecurity
Community Emergency Response Volunteers of the Monterey Peninsula for Big Sur CERT: Vests, safety glasses and flagging tape
Henry Miller Memorial Library to provide stewardship for the arts & the community in Big Sur
Los Padres Forest Association for the creation of a Big Sur Visitor use map
Stage Kids Etc for summer theater program
Ventana Wilderness Alliance for a Pine Ridge Trail visitor guide
About the Weston Call Fund for Big Sur
The Weston Call Fund for Big Sur was created in 2018 to provide residents, businesses and visitors an opportunity to pool their giving. It was named after the late Weston Call to support many of the causes he loved. It is governed by an advisory board of individuals who provides oversight, raise funds, define grantmaking priorities and recommend grants to benefit Big Sur.
The fund makes grants in the following priority areas: Health, Safety, Education, Arts, Culture, Community Stewardship and Disaster Relief. It is a special purpose fund of the Community Foundation for Monterey County which offers administrative and investment support. Grantmaking is made possible by the support of generous individuals, families and businesses. For more information or to support the fund, visit www.cfmco.org/BigSur.