The Power of Endowment
One of the main goals of the first Community Foundation, established in Cleveland in 1914, was to establish permanent charitable assets to benefit the community. Now, nearly 100 years later, that "Here for Good" vision still holds true. The Community Foundation for Monterey County (CFMC) seeks to inspire philanthropy and build charitable endowments to strengthen local communities through grants to nonprofit organizations.
Although the needs of our communities in Monterey County will change, the importance of addressing those needs will remain constant. An endowed fund is a permanent resource that can adapt to changing circumstances. A percentage of the fund's value is available to grant each year while the principal remains intact and is invested to grow over time.
An example of this visionary philanthropy is the Robert and Virginia Stanton Endowment Fund whose grantmaking and fund balance have exceeded the original gift.
Virginia Young Stanton moved to the Monterey Peninsula in 1924 as the party and entertainment editor of House Beautiful. She volunteered for the Monterey Museum of Art, the American Red Cross, and the Community Hospital Auxiliary. She was a member of the Monterey Council of the National Trust for Historic Preservation and one of the founders and a major donor for the Stanton Center and Maritime Museum, now home to the Museum of Monterey. Her husband, the noted architect Robert Stanton, designed the Monterey County Courthouse and King City High School auditorium. Both are listed on the National Register of Historic Places.
In 1985, after Robert's passing, Mrs. Stanton established her first endowment at the CFMC for awards to outstanding local architects in his honor. Mrs. Stanton continued her legacy of giving by leaving a $3.8 million bequest in 1994 to establish the Robert and Virginia Stanton Endowment Fund. She named specific agencies and types of projects for consideration for the annual grants. A Committee was established to advise the CFMC's board, guided by her wishes and interests.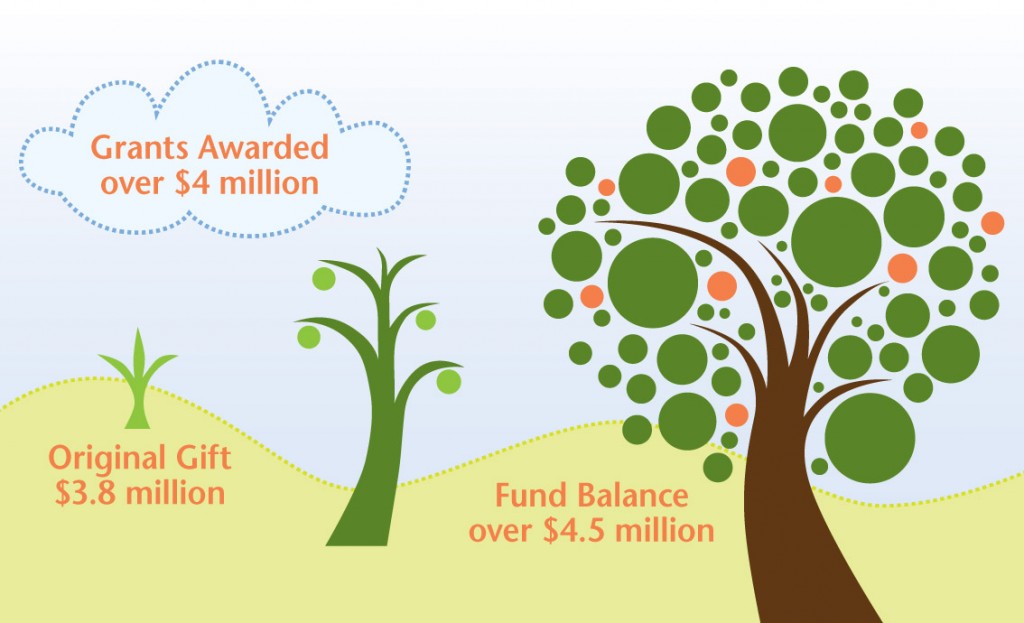 Since the original gift of $3.8 million, over $4 million has been granted through 2012. And, the fund has a current balance in excess of $4.5 million dollars.
It will continue to grow — and grant — over time, demonstrating the power of charitable endowments. – Dan Baldwin, CFMC President/CEO
The donors of unrestricted funds trust that the CFMC is knowledgeable about the community, and can bring organizations together around important issues. Donors with varied philanthropic interests find that an unrestricted fund at the CFMC is a simple and flexible way to accomplish their charitable objectives.
The CFMC is grateful to those who have the vision to leave a legacy by creating endowed funds in their lifetimes or through estates. Their generosity will enable the CFMC to make a lasting impact for generations thanks to the enduring power of endowments.