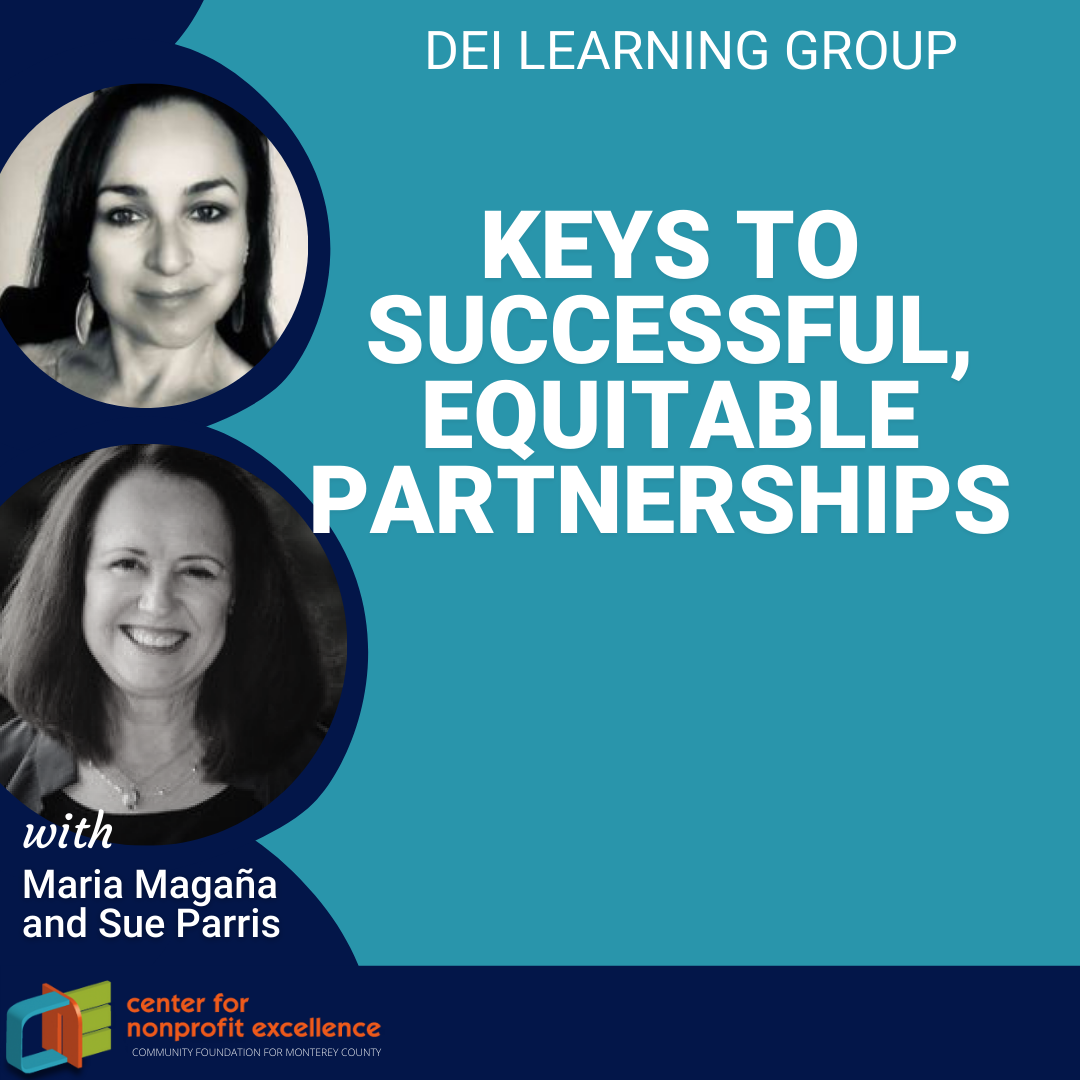 Keys to Successful, Equitable Partnerships
By Maria Magaña and Sue Parris, National Coalition Building Institute (NCBI)
In Fall 2021 we facilitated a nonprofit peer learning group for the Center for Nonprofit Excellence (CNE) on the topic of partnering with the community – a central tenet for racial equity, diversity and inclusion. Here are some things we discussed that we believe are key for successful, equitable and effective partnerships.
Successful Partnerships are Relationship-Centered, Not Transactional
What is the common interest or issue that brings us together?
Partnerships should be win-win. Identify: what's in it for me and my organization? What's in it for you and your organization?
Acknowledge power dynamics; partner with your community without patronizing.
Nothing about us without us. Follow direction from the Independent Living Movement and strive to do things with and not for.
Transparency builds trust, as does being open to feedback.
Work Collaboratively to Set and Achieve Goals and Stay Accountable
Check in with community members about needs, processes, goals.
An advisory committee should have real representation and meaningful participation. Consider compensating community members for their time.
Use roundtable conversations for insights.
Focus on quality not quantity, assets in the community, not deficits.
Community programs should be woven into community life and existing community activities.
Further Questions to Strengthen Partnerships
What does partnership mean to you?
Where does your organization partner with the community?
What have been your challenges?
What have you enjoyed/gained from partnering?
How would you improve or do it differently in the future?
What groups might you consider outside of your current or typical partners? Consider intersectionality of marginalized groups: the ways in which systems of inequality and discrimination "intersect" to create unique dynamics and effects. For example, any woman may experience sexism, but a woman of color may experience sexism in a very different way than a white woman.
What is your plan to create an intentional relationship with a potential community partner – or – to improve a current community partnership? How will you be accountable?
Maria Magaña has more than 11 years of professional involvement in highly innovative educational and training programs and has deep connections to the families and the diverse communities of Watsonville and Salinas. She has learned the importance of being resilient while demonstrating her value, passion, humility, and her trustworthiness, which are now important threads woven into the fabric of her work ethic. 
Sue Parris is Director of National Coalition Building Institute (NCBI) in Monterey County, and Regional Director of NCBI International in the Western US. She has thirty years experience as a consultant and facilitator, assisting organizations to institute racial equity and inclusion practices and resolve conflict. Sue is a co-founder of Whites for Racial Equity, a local group of white people committed to dismantling racism. For more information: info@ncbimc.org or (831) 373-4606.