Siembra Latinos Fund Tops $80,000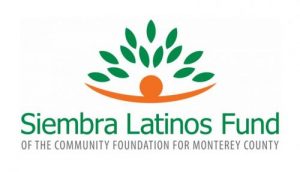 The Siembra Latinos Fund topped $80,000 in cumulative grants when it awarded $23,000 to six nonprofit organizations in August 2021 for projects and programs serving Latino residents throughout Monterey County.
"The pandemic uplifted barriers Latinos face every day. Resources from the Siembra Latinos Fund aim to expand programs and services that help build stronger communities" said Joel Hernandez Laguna, Community Impact Officer at Community Foundation for Monterey County. To date, the Siembra Latinos Fund granted more than $80,000 to organizations providing community-based programs aimed at improving the quality of life of Latinos throughout Monterey County. It is an affiliate fund of the Community Foundation for Monterey County. For more information or to support the fund, visit www.cfmco.org/SLF.
Among the grantees was Digital Nest, which works to connect youth living in agricultural areas of Salinas and North Monterey County to skill-building, transforming participants into professionals who can create successful careers, innovative solutions, and prosperous communities.
2021 Siembra Latinos Grantees:

Digital NEST for computer literacy and skills program for youth operating in Salinas and Watsonville
First Night Monterey for the Greenfield Cultural Arts Program
King City Boxing Club for positive activities for youth in King City
Salinas Community Science Workshop for its Saturday School Science Workshop
Santa Cruz Community Ventures for an economic recovery of rural Monterey County Latinos
YWCA Monterey County for youth education and advocacy                                   

         
About the Siembra Latinos Fund
The Siembra Latinos Fund (SLF) was created in 2017 to improve the quality of life for Latino residents of Monterey County. It was created by a group of local Latino leaders to inspire giving by and for Latinos and build on a culture of philanthropy. "Siembra" means "to sow" and the fund seeks to grow opportunity for the Latino Community in Monterey County. Its mission is to inspire philanthropy and giving by Latinos for Latinos in Monterey County. It is an affiliate fund of the Community Foundation for Monterey County, which provides financial stewardship, administrative support and the services of a fully accredited community foundation that is held to rigorous National Standards.
About the Community Foundation for Monterey County
The mission of the CFMC is "to inspire philanthropy and be a catalyst for strengthening communities throughout Monterey County." Thanks to generous individuals, families and businesses who have created charitable funds, the CFMC has granted more than $250 million to nonprofits working towards healthy, safe, vibrant communities. The CFMC also supports local nonprofit organizations by providing capacity building services and leadership development through the Center for Nonprofit Excellence (CNE). For more information visit www.cfmco.org, call 831.375.9712 or stay connected at www.facebook.com/cfmco or www.twitter.com/cfmco.