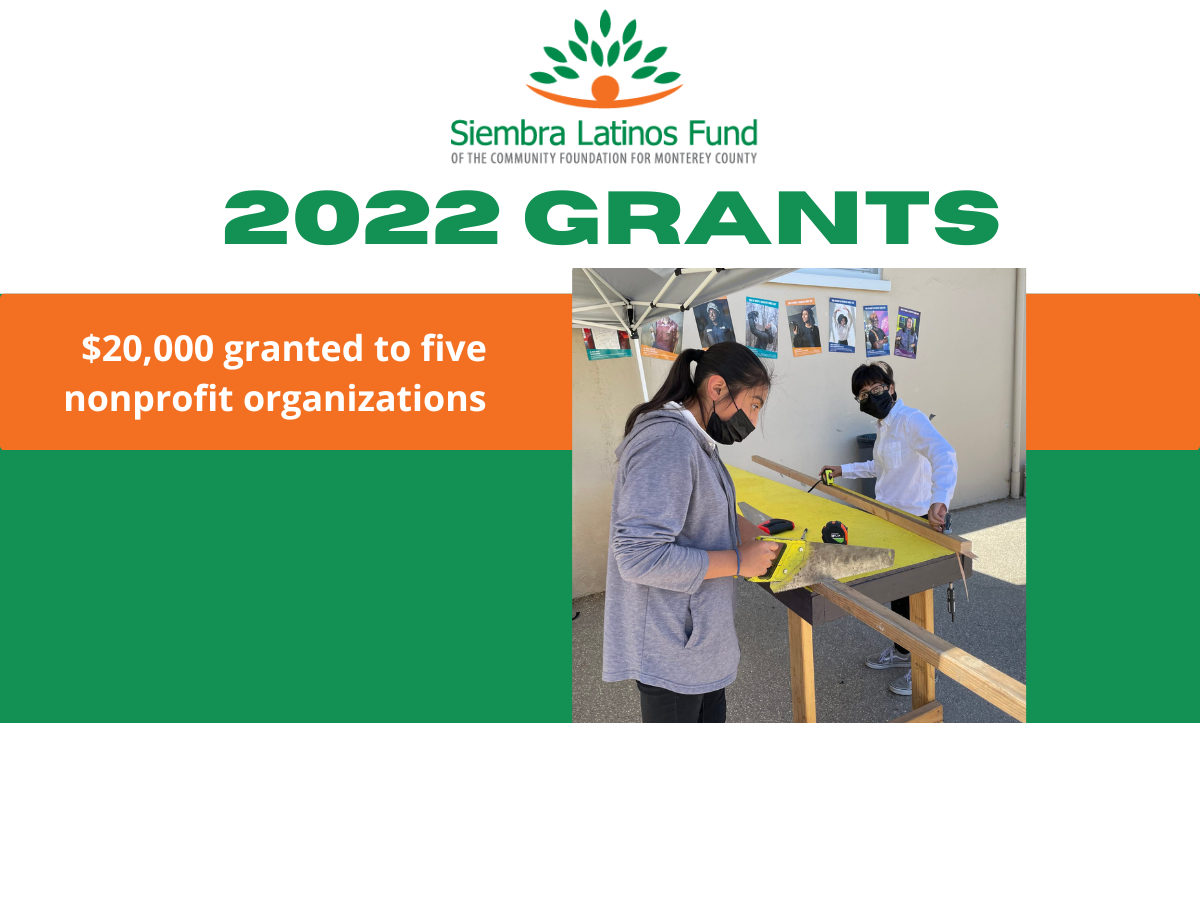 Siembra Latinos Fund Awards $20,000 in Grants
The Siembra Latinos Fund of the Community Foundation for Monterey County awarded $20,000 to five nonprofit organizations in July 2022 for projects and programs serving Latino residents throughout Monterey County. The Siembra Latinos Fund, which celebrates its 5th Anniversary in 2022, granted more than $80,000 since inception to organizations providing community-based programs aimed at improving the quality of life of local Latinos.
"As we move into the third year affected by the pandemic, Siembra Latinos Fund aims to support organizations focused on uplifting education, mental health and economic development," said Joel Hernandez Laguna, Community Impact Officer at Community Foundation for Monterey County.
The Salinas Community Science Workshop (SCSW) received a grant for its STEM Girls program for students attending El Sausal Middle School in Salinas, CA. Part of the Global Alliance of Community Science Workshops, SCSW offers kids and families of Alisal opportunities to use tools and explore the world with science in a free and fascinating environment.
The STEM Girls program is open to girls interested in building things and exploring with science, with plans to visit local women scientists and engineers in action.
"Girls in the group will benefit from consistent engagement in science learning and tools training, empowering them to imagine and create projects of their own," said Mr. Curtis Gabrielson, Director. "Discovering science can have a pivotal impact on their overall sense of belonging within science spaces, conversations, and future career pathways."
2022 Siembra Latinos Fund Grantees:

Digital NEST for Workforce Development Program
King City Boxing Club for positive alternatives for youth in King City
Salinas Community Science Workshop for STEM Girls program for El Sausal students
Santa Cruz Community Ventures for Familias con Mas
YWCA Monterey County Youth Education and Advocacy
"The Siembra Latinos Fund allows me to pay it forward to honor the legacy of my family who came here seeking the American Dream. It is the foundation for our community to prosper, grow, and thrive," said Ida Lopez Chan, Chair, Siembra Latinos Fund Advisory Board.
The Siembra Latinos Fund held a 5th Anniversary celebration benefit Saturday, August 27, 2022 at Rustique Winery in Salinas. Click here to view the slideshow.
The Siembra Latinos Fund is an affiliate fund of the Community Foundation for Monterey County. For more information or to support the fund, visit www.cfmco.org/SLF.
About the Siembra Latinos Fund
The Siembra Latinos Fund (SLF) was created in 2017 to improve the quality of life for Latino residents of Monterey County. It was created by a group of local Latino leaders to inspire giving by and for Latinos and build on a culture of philanthropy. "Siembra" means "to sow" and the fund seeks to grow opportunity for the Latino Community in Monterey County. Its mission is to inspire philanthropy and giving by Latinos for Latinos in Monterey County. It is an affiliate fund of the Community Foundation for Monterey County, which provides financial stewardship, administrative support and the services of a fully accredited community foundation that is held to rigorous National Standards. To learn more, visit cfmco.org/Siembra.