President's Blog – Community Foundations Leading Change
By Dan Baldwin, President & CEO, Community Foundation for Monterey County
Chair, League of California Community Foundations
Community foundations are fast becoming community leaders. Last month, I had the opportunity to lead a two-day retreat of the League of California Community Foundations attended by the CEOs and board chairs of community foundations from across California.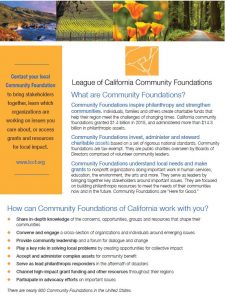 As you can imagine, there is great diversity among California community foundations. They cover the entire state, and include the largest in the country (Silicon Valley Community Foundation) and many that are quite small. More than $14 billion of charitable assets are stewarded by League members.
Aside from drawing the short straw and serving a two-year stint as chair (six months to go!), I am happy to report that California community foundations are thriving. Over the two days we explored many topics, including threats to the future of endowed philanthropy, how our field has evolved and where it is headed, government affairs in Washington and Sacramento, and our role in community leadership.
A Little History
Created in 1914 on the concept of accumulating unrestricted community assets that could be deployed to impact changing needs, community foundations later became largely transactional, acting as back offices for donors' philanthropic interests. While this wasn't a bad thing, and it is part of our work today, it didn't fully release the potential benefits of proactively bringing philanthropy and local knowledge to dealing with emerging issues.
The positive leverage that comes from our local knowledge, ability to convene, and access to resources can make a remarkable difference.
Community Leadership
Community foundations today are more deeply involved in problem solving, whether in response to a disaster or diving into solutions to chronic issues." – Dan Baldwin, CFMC President/CEO & Chair, League of California Community Foundations
Here are some examples:
The CFMC has engaged County leaders, the City of Salinas and homeless service providers to find a long-term solution for Salinas' Chinatown.
The Future
Where is our field heading? No one can know for certain. But know that community foundations in California are deeply engaged in solving our most serious issues. Their CEOs and boards of directors are finding new and inventive ways to elevate their communities. Doing so will inspire even more philanthropy. It is a very positive cycle that will be ever-evolving.
Dan Baldwin is President/CEO of the Community Foundation for Monterey County, which holds more than 350 charitable funds and has total assets of approximately $180 million. In 2015 the CFMC granted nearly $10 million to hundreds of nonprofits in Monterey County and beyond. Dan is the 2015-2016 President of the League of California Community Foundations.