NMCF Awards $31,500 in Grants
The Northern Monterey County Foundation (NMCF) granted $31,500 to 11 nonprofit organizations in August 2021 for projects and programs serving the residents of Aromas, Bolsa Knolls, Boronda, Castroville, Elkhorn, Las Lomas, Moss Landing, Oak Hills, Pajaro, Prunedale, Royal Oaks and Santa Rita.
Among the grantees were the Monterey Bay Fisheries Trust (MBFT) which since 2017 has coordinated the Lost Gear Recovery project to remove lost Dungeness crab gear from the Monterey Bay and prevent entanglements with boats and marine life.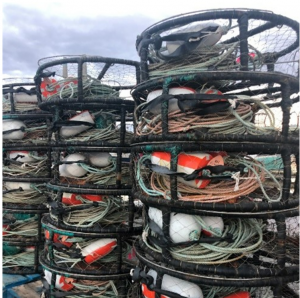 Through partnerships with local fishermen, the boating community, the harbor district and the California Department of Fish and Wildlife, MBFT have successfully removed 3,200 pounds of lost gear. With NMCF funding, the organization will complete the 2021 Lost Gear Recovery project out of Moss Landing and launch the 2022 project.
"Fishermen have always been motivated to remove lost gear from the Bay, from an environmental, safety and cost perspective," says Sherry Flumerfelt, the Executive Director of the Monterey Bay Fisheries Trust. "We're fortunate to have such a dedicated group of fishermen on the project this year and thankful for the support."
To date, $160,000 has been granted from the NMCF for organizations providing community-based services aimed at improving the quality of life for Northern Monterey County residents."
The NMCF, now in its fifth year, is an affiliate fund of the Community Foundation for Monterey County. For more information or to support the fund, visit www.cfmco.org/NMCF.
2021 Northern Monterey County Foundation Grantees:
AIM for Mental Health for AIM Ideas Lab, a youth program to ignite mental health advocacy and elevate student voices in research
Central Coast VNA & Hospice to provide Tdap vaccinations for North Monterey County Schools
Coastal Kids Home Care for health and mental health care for children and teens
Farm Discovery at Live Earth for farming & distribution of produce & nutrition education for N. Monterey County Residents in need
Girls Incorporated of the Central Coast for empowering girls in Castroville to resist peer pressure to engage in unhealthy behaviors
Monterey Bay Fisheries Trust for lost gear recovery project cleaning the bay to prevent entanglements with marine life
Pajaro Valley Shelter Services for coordinated economic development and tenant education for families in Pajaro
Partnership for Children for access to medical care for children with serious illnesses and supporting their families.
Prunedale Senior Center, Inc. for efforts at improving the quality of life for North Monterey County Seniors
Special Kids Connect for an ability-inclusive afterschool art program for youth with special needs in Santa Rita
Wonder Wood Ranch for horses & heroes equine therapeutic services for North County foster kids
About the Northern Monterey County Foundation
The Northern Monterey County Foundation (NMCF) was created in 2016 as a unique vehicle to bring positive change to the communities of North Monterey County. The NMCF is an opportunity for individuals, families, and businesses to come together to improve the quality of life for all residents of North County. A local advisory board provides oversight, defines grantmaking priorities, and raises funds that are distributed to community organizations serving Northern Monterey County. As an affiliate of the Community Foundation, the CFMC provides financial stewardship, administrative support and the services of a fully accredited community foundation that is held to rigorous National Standards.
About the Community Foundation for Monterey County
The mission of the CFMC is "to inspire philanthropy and be a catalyst for strengthening communities throughout Monterey County." Thanks to generous individuals, families and businesses who have created charitable funds, the CFMC has granted more than $205 million to nonprofits working towards healthy, safe, vibrant communities. The CFMC also supports local nonprofit organizations by providing capacity building services and leadership development through the Center for Nonprofit Excellence (CNE). For more information visit www.cfmco.org, call 831.375.9712 or stay connected at www.facebook.com/cfmco or www.twitter.com/cfmco.