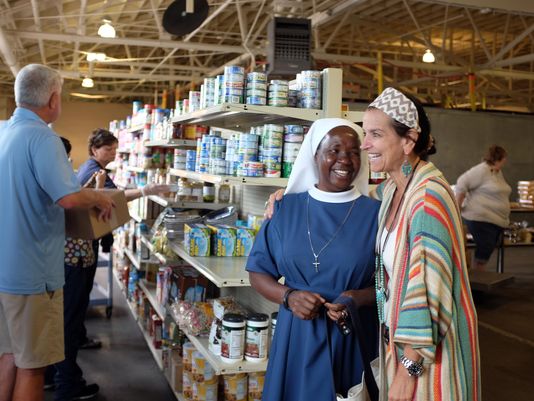 Giving Together: The Food Bank Fire
Together we are stronger. Many generous individuals and families have entrusted the CFMC with their philanthropic vision and resources. This partnership has enabled the CFMC to grant more than $125 million to Monterey County and beyond. Each spring and fall we share current grant opportunities with our fund holders. Many choose to co-invest with us and leverage our Community Impact grants. On rare occasions a circumstance arises when we reach out to our donor advisors in response to a specific community need. The arson of the Food Bank in March was one such occasion.
When we learned about the devastation to the Food Bank and its cause, we knew we had to get involved. – Dan Baldwin, CFMC President/CEO
Dan and Vice President of Grants & Programs, Laurel Lee Alexander, toured the facility. They heard first-hand from Executive Director, Melissa Kendrick, about the extent of the damage. The CFMC board immediately committed $50,000 to help sustain critical services.
Next, our Philanthropic Services team went to work, calling on fund holders and communicating with fellow funders who were also seeking to respond. Within 48 hours representatives from the CFMC, Monterey Peninsula Foundation, David and Lucile Packard Foundation, First 5 Monterey County, Nancy Buck Ransom Foundation and United Way Monterey County presented checks totaling $430,000. Of that amount, $270,000 was provided by CFMC fund holders, who rose to the challenge to make sure families in need did not go hungry.
The Food Bank, which had just completed a multi-year capacity-building program, was well positioned to respond to the crisis. They began rebuilding and have arisen stronger than ever. They have even been able to expand services thanks to the philanthropic response and support from business and individuals alike. The Food Bank has also been able to use the increased media focus to raise awareness of food insecurity in our county, where 1 in 5 people utilize their services.
We deeply appreciate the Community Foundation's support. Their immediate response after the devastating arson made it possible for us to resume operations within two days. – Melissa Kendrick, Executive Director, Food Bank for Monterey County
The outpouring of support for the Food Bank is a testament to the power of local philanthropy. We are proud to be a part of that effort. For more information visit www.foodbankformontereycounty.org.