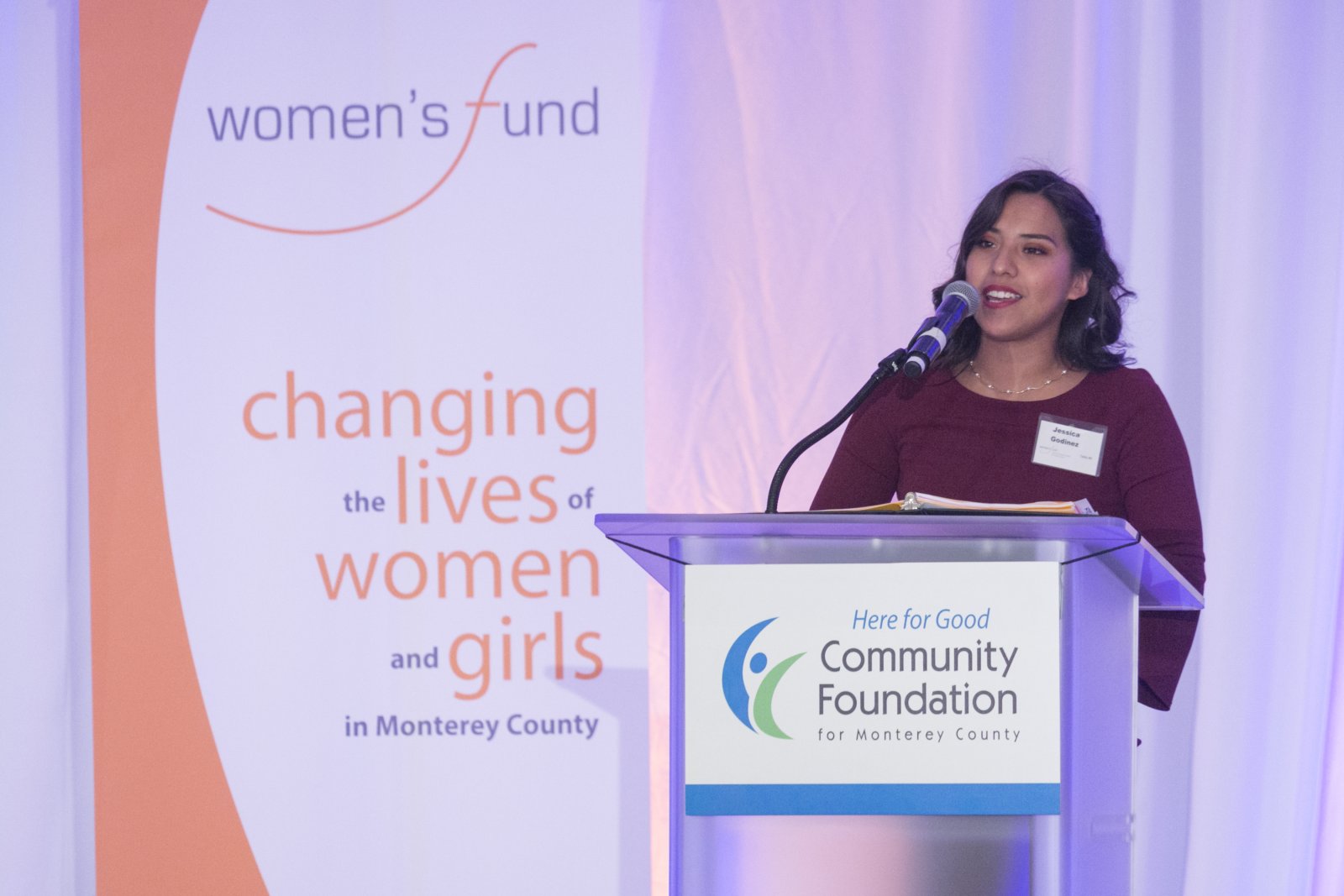 Community Foundation Women's Fund Focuses on Women's Leadership and Empowerment
MEDIA RELEASE
May 22, 2019
14th Annual Luncheon Raises More than $136,000 for Grants and Scholarships
Monterey, California — The vision of the Women's Fund of the Community Foundation for Monterey County (CFMC) is to help change lives for local women and girls. Now in its 14th year, the Women's Fund Luncheon on May 16, 2019 did just that. Nearly 600 women and men gathered to to raise more than $136,000 and counting for grantmaking and scholarships.
The luncheon was kicked off by Tonya Antle, of Organic Produce Network, former CFMC board member and current Women's Fund Leadership Council member and took place at the Hyatt Regency Monterey Conference Center with wine donated by Scheid Family Wines. It has become one of the largest fundraisers for women and girls in Monterey County.
"We want to support local women and girls in leadership, policy and advocacy to address gaps in economic security and safety. This not only impacts their families but will also improve the quality of life for our entire community." said Christine Dawson, CFMC Vice President of Philanthropic Services, who spoke at the luncheon. She pointed to the impact of investing in women and girls, quoting Melinda Gates, "When we lift up women, we lift up humanity."
Keynote speaker Julie Castro Abrams, a former corporate CEO who established the leadership organization, How Women Lead, spoke about the need for women to be fierce advocates for one another, helping and connecting and reinforcing one anothers' voices – particularly in the boardroom and as leaders.
"We are at a tipping point for women leading the world. Let's look up, see what others are doing and capture our momentum," Castro Abrams told the crowd.
The program, emceed by KSBW Action News 8 anchor Erin Clark, included a video "Creating Pathways," about the work the Women's Fund is doing to grow women leaders, invest in scholarships and educate about human trafficking through local nonprofit  Rising International. The video can be viewed online: www.cfmco.org/2019/05/womens-fund-leading-change/
The Women's Fund is part of a national movement of foundations working to invest in women and girls. It was included in a study released May 14 by the Lilly School of Philanthropy on the transforming power of women's funds and foundations. The report can be found here: https://philanthropy.iupui.edu/institutes/womens-philanthropy-institute/newest-report/index.html
Since 2003, the Women's Fund has awarded more than $2.1 million in grants supporting the future of girls and women's economic opportunity. Other accomplishments include:
Women's Fund Leadership Council Chair, Maija West closed the luncheon by focusing on the healing power of philanthropy.
"As I consider the diversity of assets in this room, I am in awe- we have champions for community good, we have mothers and grandmothers, we have brothers and uncles, we have leaders in their field, we have survivors who are now advocates, and we have people in this room who come from great wealth, and we have people in this room who come from great poverty. And today, we are all equal partners in the healing power of philanthropy."
For more information or to donate, visit www.cfmco.org/womensfund or call (831) 375-9712.
About the Community Foundation for Monterey County
The mission of the CFMC is to inspire philanthropy and be a catalyst for strengthening communities throughout Monterey County. Thanks to generous community members who have created charitable funds in their lifetimes or through their estates, the CFMC has granted more than $184 million since 1981 to nonprofits working towards healthy, safe, vibrant communities. For more information visit www.cfmco.org, call 831.375.9712 or stay connected at www.facebook.com/cfmco or www.twitter.com/cfmco.
###