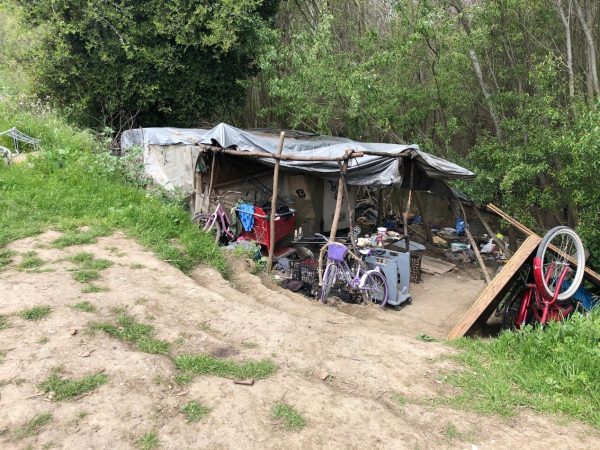 LOCC Feed the Homeless Fund
Love Our Central Coast Feed the Homeless Fund
During these unprecedented times, our homeless are particularly hard hit, and especially those living in makeshift encampments scattered around the county. Traditional food sources are not available, and sheltering in place makes access to food and other essentials nearly impossible. Love Our Central Coast (LOCC) is committed to helping address this critical food need with as many of our unsheltered homeless located throughout the county during this time of crisis.
The Need is Great
• Over 1,000 individuals sleep in a tent, makeshift shelter in the woods, on the street or in a car in our county. Most go to sleep with little food in their stomachs.
• 83% of our homeless are Monterey County residents – our family.
Please consider lending your support to meet this need. The time to act is now. We have already started feeding our friends. Help us sustain the efforts by giving to the LOCC Feed the Homeless Fund of the Community Foundation for Monterey County.
You Can Help
A generous founding gift of $100,000 from the John and Wendy Evans Family Fund will meets approximately half of the anticipated need of $200,000. This amount is projected to feed 1,000 homeless throughout the county through the end of June.  Donations to the fund will support grants to safely provide food, water and hygiene items for unsheltered people who have limited access to other services or programs.
Donate to sponsor meals and make a big difference: Each $60 donated feeds one person for a month. It's easy, just click here or the button below to make your tax-deductible donation. Your generosity is greatly appreciated.
Ways to Give
Those wishing to contribute can:
• Make a secure, tax-deductible online donation
• Mail a check payable to "Community Foundation for Monterey County" with "LOCC – Feeding the Homeless Fund" in the memo line to: 2354 Garden Road, Monterey, CA 93940
• Make a gift of stock. Please contact Christine Dawson or call 831.375.9712 x126 for instructions.
• If you are a CFMC donor advisor, you can request a grant through Donor Central or contact your Philanthropic Services Officer to make a grant.
• Call 831.375.9712 Monday through Friday to donate by phone.
Volunteer
You can be a part of helping our unsheltered homeless through volunteering your time. We invite you to volunteer by safely packing food bags or delivering food to homeless encampment locations near you. Visit www.loveourcentralcoast.org to learn about ongoing volunteer and service needs. 

• Pack up food bags for approximately 300 people with 3 days of supplies at a time
• Deliver bags to several locations where designated to a "camp" leader at each location for distribution to encampment residents
• Document food delivery, encampment data and any emergent health needs communicated to you
Love Our Central Coast
Love Our Central Coast is a growing team of churches and community members committed to loving and serving our community with deep compassion.
Love Our Central Coast not only brings a deep sense of compassion and care for those struggling the most in our communities, but seeks to address community needs by partnering with other churches, businesses, government and non-profit agencies, schools and individuals who believe we are stronger when united together." – Eric Johnsen, Executive Director of LOCC.
"We seek to respond to the physical, mental and spiritual needs of those we are privileged to serve," said Johnsen.
Contact Us
Please feel free to reach out to us via email at loveourcentralcoast@gmail.com. You may also request help if you have specific needs that our church and community partners can help address.
Sincerely,
Eric Johnsen and LOCC Leadership Team