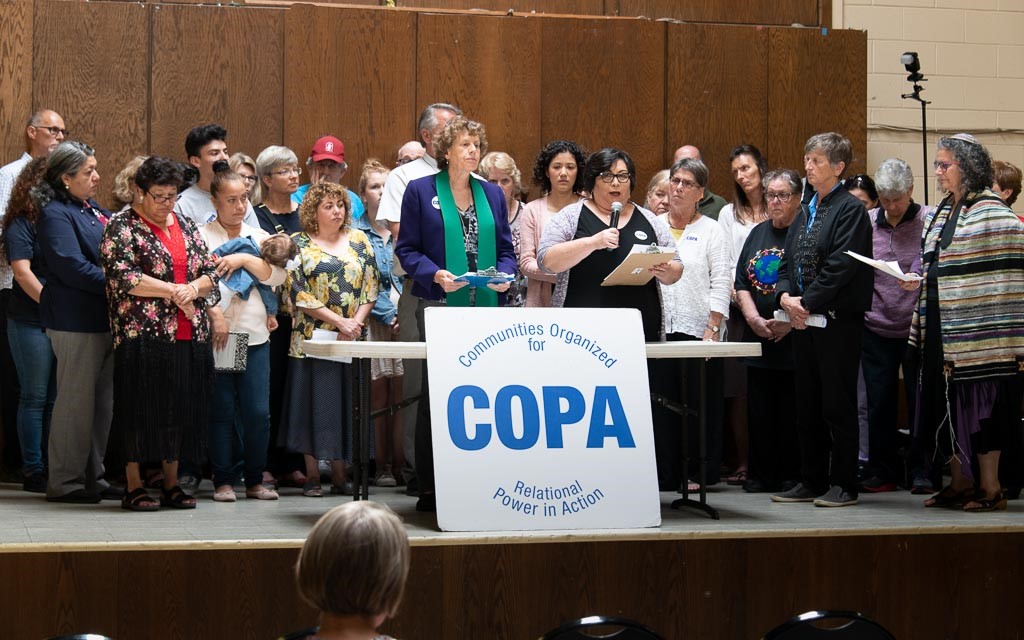 COPA Catalyst Fund
About COPA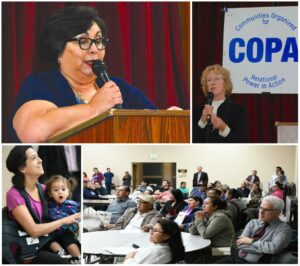 COPA is a non-partisan, broad-based organization of almost thirty religious congregations, labor unions, schools, and nonprofits. We organize across institutions to bring together a diverse cross-section of the region around mutual interests to achieve change for the common good.
Since its founding in 2003, COPA has been developing leaders in member institutions in Santa Cruz, Monterey and San Benito Counties to take action on the issues affecting our families.  By deepening relationships within and across diverse communities, COPA builds power and works to revive democracy.
COPA Catalyst Fund
The COPA Catalyst Fund gives COPA the resources to build leadership capacity to respond quickly and strategically to community needs.
The choice of the word catalyst is intentional. COPA is an organization that quickly causes change or action. We listen to the needs of the community and then respond with action.
Developing the Next Generation of Civic Leaders
COPA identifies, develops, and mentors the next generation of leaders from community-based institutions to address local concerns. COPA then builds communal power to take effective action on the issues and bring about measurable and lasting change. A healthy democracy depends upon vibrant, community-based institutions and leadership across diverse groups of people.
We start by sharing our stories, building relationships, and developing trust. Most COPA meetings are bilingual. The issues we take on evolve from our stories and experiences.  We then work together to address the economic, social, political, and cultural pressures on our families and neighborhoods.
Recent Community Reponses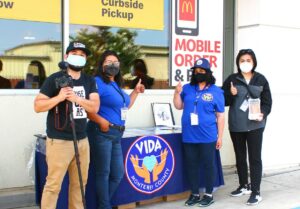 COVID-19 – COPA was the CATALYST in bringing stories to the Monterey County Board of Supervisors. We proposed a Community Health Worker program, which was unanimously approved on December 21, 2020 and became the highly successful VIDA program. Through the work of almost 100 community health workers, VIDA brought testing, family assistance during isolation, and vaccinations to underserved communities.
Affordable Housing – COPA was the CATALYST in bringing affordable housing to Live Oak. COPA met with local institutions, home builders, and community members, and shared stories about housing needs with the Santa Cruz County Board of Supervisors, which unanimously approved funding for 57 affordable homes.
Watsonville Police – COPA was the CATALYST in summer 2020 in creating conversations with hundreds of people about policing and public safety. In partnership with the Watsonville Police, nine recommendations were presented to the Watsonville City Council.
Esperanza Care – COPA was the CATALYST in creating Esperanza Care, a healthcare program for undocumented workers. Monterey County Supervisor Jane Parker praised COPA for informing supervisors about the healthcare needs. "COPA comes up with ideas and invites the county to participate," Parker said in 2017. "We worked together to put together … the pilot program and now Esperanza Care. Without COPA it would be hard for the county to come up with these ideas to serve you."
Community Foundation for Monterey County
The COPA Catalyst Fund is a stewardship fund managed by the Community Foundation for Monterey County. All gifts to the COPA Catalyst Fund are given to the Community Foundation in trust in accordance with their gift policies.
The COPA Catalyst Fund capital campaign is now in the quiet phase and will officially launch in mid-2023 at COPA's 20th anniversary convention.
Make a Gift
To make a gift to the COPA Catalyst Fund, donate directly and securely online here or click on the "Donate Now" button below.
Send a check made payable to "Community Foundation for Monterey County" with "COPA Catalyst Fund" in the memo line
Mail to:
Community Foundation for Monterey County
2354 Garden Road, Monterey, CA 93940
To make a gift of stock or other assets, please contact Christine Dawson, Senior Vice President Philanthropic Services at 831.375.9712 x126.
Donations to the COPA Catalyst Fund of the Community Foundation for Monterey County (CFMC) are tax deductible.
The CFMC is a 501(c)3 nonprofit organization,Tax ID #94-1615897.