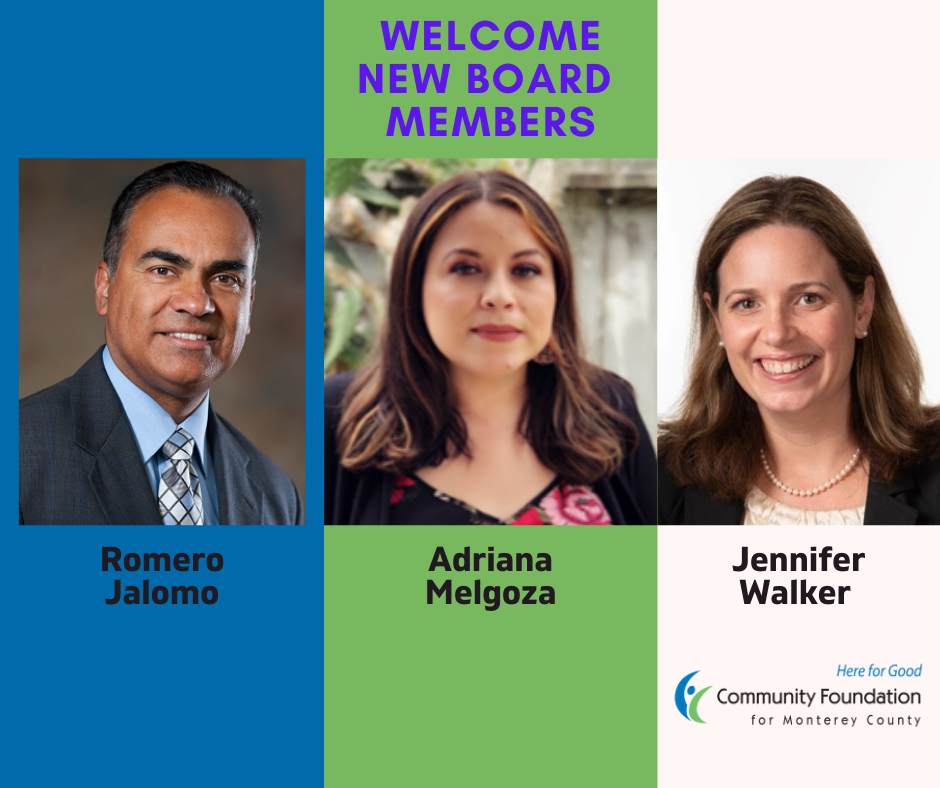 CFMC Names Three to Board of Directors
The Community Foundation for Monterey County (CFMC) is pleased to announce the addition of Romero Jalomo, Adriana Melgoza and Jennifer Walker to their Board of Directors.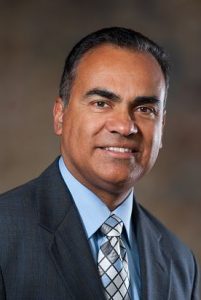 Romero Jalomo, a native of Wilmington, CA and 21-year resident of Salinas, is the Vice President for Student Affairs at Hartnell College, a role he has held since 2013.
Romero is a steering partner with the Bright Futures Partnership of Monterey County and member of the Salinas Valley Promise Advisory Board. Prior to joining Hartnell College, Romero was the former Associate Vice Chancellor of Institutional Effectiveness for the San Jose/Evergreen Community College District.
I am honored to serve as a CFMC board member. To join such an influential group of individuals who serve to improve the quality of life for Monterey County residents is an honor that I greatly appreciate." – Romero Jalomo 
He previously served as the Dean of Counseling and Support Programs at San Jose City College and was Dean of Counseling and Matriculation at Evergreen Valley College. He served in several other college administrative and faculty positions and is a former Assistant Professor of Higher Education Administration and Urban Community College Leadership at New York University.
Romero is a graduate of Los Angeles Harbor College, CSU Chico (BA in Computer Information Systems), CSU Dominguez Hills (Masters of Public Administration), and Arizona State University (Ph.D., Educational Leadership and Policy Studies). He is a 16-year member of League of United Latin American Citizens Council #2055 (Salinas).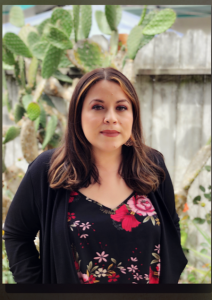 Adriana Melgoza is Chief Programs Officer at the Watsonville Law Center and Co-Director of Diversity, Equity and Inclusion for Salud Para La Gente.
An immigrant who grew up in Castroville, Adriana graduated from California State University, Monterey Bay with a major in Human Communications with an emphasis in Ethical Professional Responsibility. Adriana first became associated with the CFMC when she was a teenager, participating in leadership and training programs. She is also a graduate of the CFMC's Center for Nonprofit Excellence LEAD (Leadership, Education and Development) program for emerging nonprofit leaders.
"Coming back as a Board Member brings me such joy to be able to give back to a Foundation that has helped me build my skills. I look forward to being part of efforts to lift our nonprofits and community." she said.
I am also very excited the Foundation is working on bringing more diversity and equity to their work, staff, board and services." – Adriana Melgoza
Adriana is an elected board member of the Castroville Community Services District, member of the English Learner Advisory Committee representing North Monterey County High School, an advisor to the California Collaborative for Immigrant Justice and the Immigrant Defense Advocates. She is also the Founder and Organizer of the Monterey County Rapid Response Team, board member of the Castroville Coalition and is Vice Chair of the North Monterey County League of United Latin American Citizens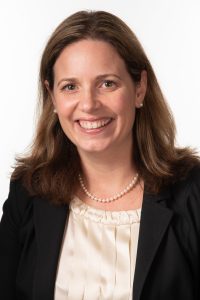 Jennifer L. Walker, a native of Pittsburgh, Pennsylvania, is a shareholder in the Monterey-based law firm Leach & Walker. Jennifer is a Certified Specialist in Estate Planning, Trust and Probate Law pursuant to the State of California Board of Legal Specialization and is a member of the Trusts and Estates Section of the Monterey County Bar Association and the Monterey County Women Lawyers Association.
"The reach of the Community Foundation for Monterey County is far and wide across our county,  During the past year of the Covid-19 pandemic, I have been searching to find a way to serve those around me whose needs are greater than ever."
I am hopeful that by being part of such a diverse and dynamic group of community leaders, I will be able to actively support the local community that I care so much about." – Jennifer Walker
Jennifer has volunteered for Legal Services for Seniors and the Naval Postgraduate School Foundation. She served on the Board of Directors for the Monterey County Youth Museum and the Continuing Professional Education Forum of the Central Coast. She is an active adult leader with San Benancio 4H and the art docent program through the Washington Union Educational Foundation. Jennifer earned her B.A. with honors from The Johns Hopkins University and her J.D. from the University of California, Davis.
2021 Community Foundation for Monterey County Board of Directors:
Teri Belli (Chair)
Belli Architectural Group
Betsy Buchalter Adler (Vice Chair)
Retired Trustee and Program officer, Claire Giannini Fund
Jan Vanderbilt (Treasurer)
Vanderbilt Certified Public Accountants
Maija West (Secretary)
Law Office of Maija West
Kirk Gafill
President/CFO Nepenthe/Phoenix Corporation
Romero Jalomo
Vice President of Student Affairs Hartnell Community College
Elsa Mendoza Jimenez
Director of Health Services, Monterey County Health Dept.
Birt Johnson, Jr.
Community Volunteer; former General Manager AT&T
Nolan Kennedy
Attorney at Law, Kennedy, Archer & Giffen
Judy Guzman Krueger
Managing Director / Regional Manager MUFG Union Bank, N.A.
Giff Lehman
Founder, Integris Wealth Management (retired)
Adriana Melgoza
Watsonville Law Center Chief Programs Officer
Fred Meurer
Owner, Meurer Municipal Consulting
Betsey Pearson
Nonprofit Consultant, Retired United Way
Joe Pezzini
CEO Ocean Mist Farms
Francine Rodd
Executive Director, First Five Monterey County
Bill Sharpe
Professor of Finance, Emeritus at Stanford University's Graduate School of Business
Loren Steck
Entertainment Industry Consultant
Abby Taylor-Silva
Executive Vice President, California Agricultural Leadership Foundation
Jennifer L. Walker
Attorney/Shareholder Leach & Walker
About the Community Foundation for Monterey County
The mission of the CFMC is to inspire philanthropy and be a catalyst for strengthening communities throughout Monterey County. Thanks to generous community members who have created charitable funds in their lifetimes or through their estates, the CFMC granted $27 million in 2021 to nonprofits working towards healthy, safe, vibrant communities and has granted more than $225 million since 1981. The CFMC's Center for Nonprofit Excellence provides local nonprofit organizations with high-quality professional development, information and resources. For more information visit www.cfmco.org, call 831.375.9712 or stay connected at www.facebook.com/cfmco or www.twitter.com/cfmco.