News! CFMC Grants Record $27.9 Million in 2020
FOR IMMEDIATE RELEASE
July 30, 2021
Media Contact: Amanda Holder, Director of Communications / 831.375.9712 x123 / amandah@cfmco.org/ Public Information: 831.375.9712 www.cfmco.org / www.facebook.com/cfmco / www.twitter.com/cfmco
Community Foundation for Monterey County Grants Record $27.9 Million in 2020
Stories of Impact Featured in 2020 Annual Report: Meeting the Moment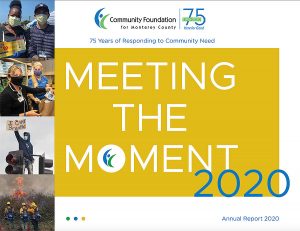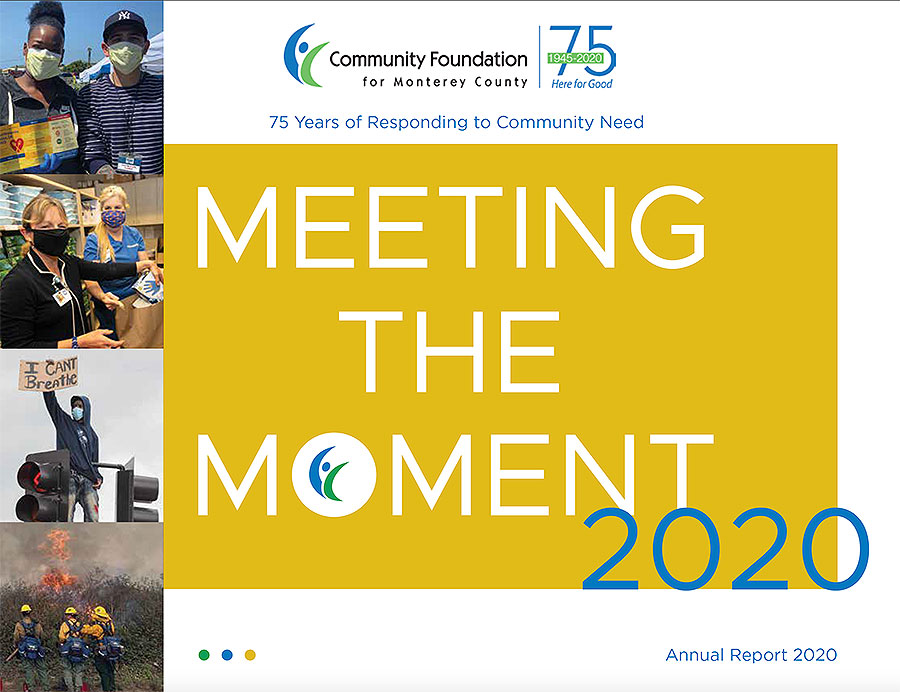 MONTEREY COUNTY, CA – 2020 included enormous challenges – a global pandemic, shelter in place, three wildfires and economic uncertainly. Yet, thanks to the donors who partnered with the Community Foundation for Monterey County (CFMC), the CFMC set records – financially and in sheer number of donors – to support nonprofit organizations working to meet community needs.
The CFMC granted $27.9 million, despite 2020 being a year social and economic turmoil caused by the Covid-19 pandemic. This was an increase of 45% over the $19.2 million the foundation granted to nonprofits in 2019. The cumulative total granted through June 30, 2021 is more than $252 million since grantmaking began in the 1980s, the CFMC announced.
"When circumstances seem the most dire, the motivation to give – to help neighbors is at its greatest," said Dan Baldwin, CFMC President/CEO. "Every household in Monterey County faced challenges in 2020. And so did every business, government entity, school and nonprofit. We're proud of what the CFMC accomplished in 2020."
"The Covid-19 Relief Fund and the Monterey County Fire Relief Fund received thousands of gifts to help those in need," Baldwin said. "Gifts came from donor advisors. individuals, private foundation and businesses."
The stories of impact are outlined in the just-released 2020 Annual Report: Meeting the Moment available at www.cfmco.org/2020AnnualReport.
Read the Annual Report
Highlights include:
$27.9 million in 2,542 grants to nonprofits
$57 million in gifts
$7.9 million in Monterey Gives! donations
$1.8 million in scholarships awarded
Covid-19 Relief Fund, Monterey County Fire Relief Fund, Fund for Monterey County and Census 2020 funds and grants
75th anniversary year since CFMC's founding in 1945
The report also features donors sharing their personal stories of why they turned to the CFMC to give back.
"We were pleased to support COVID-19 relief efforts through both our personal and business funds. It helped us quickly direct support to where it was needed most," said Greenfield resident John Romans.
Another highlight included the resilience of scholarship students who still aspired to attend college during the pandemic. The CFMC, it's donors including several corporate scholarship holders were there to provide financial assistance, awarding $1.8 million in 405 scholarships. The CFMC manages more than 60 named scholarships with a value of $8.2 million.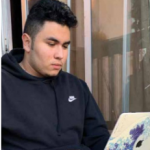 "For me, the scholarship is supporting me both physically and mentally, giving me the financial aid required to succeed," said Gabino Guzman Losoya, a Soledad High School graduate and scholarship recipient featured in the report who earned top grades at Hartnell Community College.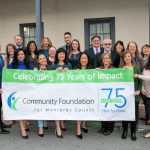 2020 also marked the CFMC's 75th anniversary since its founding in 1945. Donors, community leaders and nonprofits shared their thoughts on what the foundation means to them in a series of videos which can be viewed at cfmco.org/75 years. Words like "essential," "relevant," "leadership," "opportunity" and "here for good" were used to describe the CFMC.
"Our founders could never have imagined that the organization they established 75 years ago would have prepared us to meet the moment in 2020, a year like no other," Baldwin said. "While the CFMC has evolved over the years, it continues to reflect the spirit of local philanthropy."
The mission of the CFMC is "to inspire philanthropy and be a catalyst for strengthening communities throughout Monterey County." Thanks to generous individuals, families and businesses who have created charitable funds in their lifetime or through their estates, the CFMC has granted more than $250 million to nonprofits working towards healthy, safe, vibrant communities. The CFMC also strengthens local nonprofit organizations through the Center for Nonprofit Excellence (CNE). The CFMC stewards more than 600 funds and $368 million in charitable assets. For more information visit www.cfmco.org, call 831.375.9712 or stay connected at www.facebook.com/cfmco or www.twitter.com/cfmco.
###