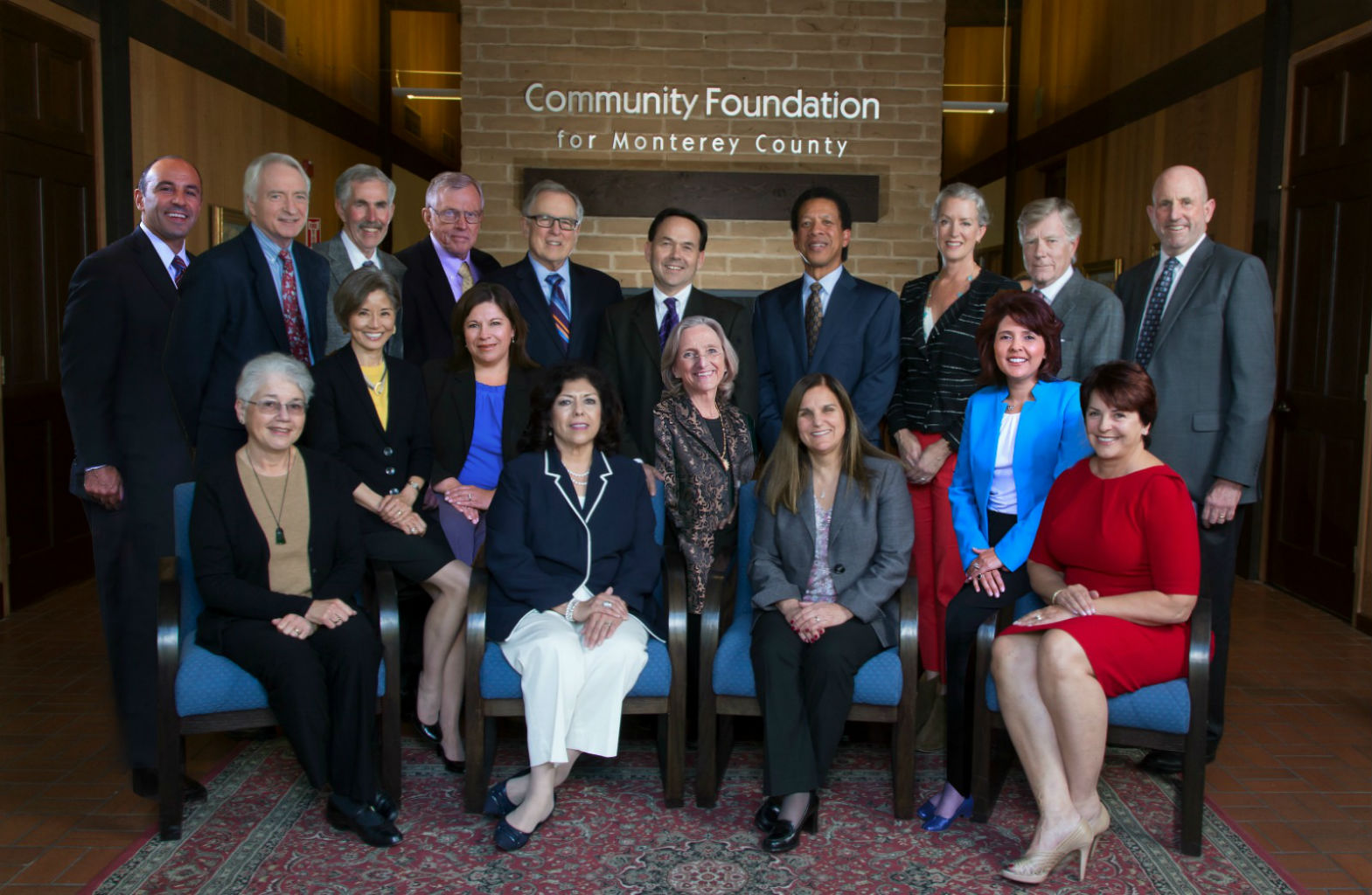 Board of Directors
Back (l to r): James Panetta, Stephen McGowan, Ken Wright, Judge John M. Phillips (retired), Ken Petersen, Greg Chilton, Birt Johnson, Jr., Catherine Kobrinsky-Evans, Stephen Dart, Rick Kennifer. Seated (l to r): Betsy Buchalter Adler, Patti Hiramoto, Erica Padilla-Chavez, Anna Marie Ponce, Tina Starkey Lopez, Gail Delorey, Ida Lopez Chan, Tonya Antle. Not pictured: Raul Rodriguez. 
Pictured – 2016 Board of Directors
The Community Foundation for Monterey County (CFMC) is governed by a volunteer board of directors. These community leaders provide strong stewardship by establishing policy, setting priorities and approving final grant decisions. Members serve three-year terms, and their expertise, diverse perspectives and guidance drive our success.
2017 Board of Directors
Steve McGowan (Chair) former CFO & Executive Vice President of Corporate Resources, Sun Microsystems, Inc.
Ken Petersen (Vice Chair) President, Monterey Private Wealth
Teri Belli (Treasurer) CPA Owner, tBelli Consulting
Kenneth R. Wright (Secretary) Community Volunteer, Retired California Highway Patrol
Betsy Buchalter Adler Trustee and Program Officer, Claire Giannini Fund
Ida Lopez Chan Senior Vice President, Wells Fargo Bank
Greg Chilton Attorney at Law, Chilton & House, LLP
Jeff Eikenberry Former Managing Vice President, Jackson Family Wine
Catherine Kobrinsky Evans Partner, The Kobrinsky Group, Commercial Property Asset Manager
Patti M. Hiramoto Ed.D., Associate Vice President of Inclusive Excellence, Chief Diversity Officer, CSU Monterey Bay
Birt Johnson, Jr. Community Volunteer, former General Manager AT&T
Nolan Kennedy Attorney at Law, Kennedy, Archer & Giffen
Rick Kennifer Attorney at Law, Johnson, Fantl & Kennifer, LLP
Tina Starkey Lopez Owner, JV Automobiles
Fred Meurer Owner, Meurer Municipal Consulting
Bill Mitchell Managing Director Carmel Realty
Erica Padilla-Chavez CEO, Pajaro Valley Prevention and Student Assistance
Betsey Pearson Community Volunteer
Anna Marie Ponce Owner, Sun Valley Berries, LLC
Bill Sharpe  Professor of Finance, Emeritus at Stanford University's Graduate School of Business
Past Board Chairs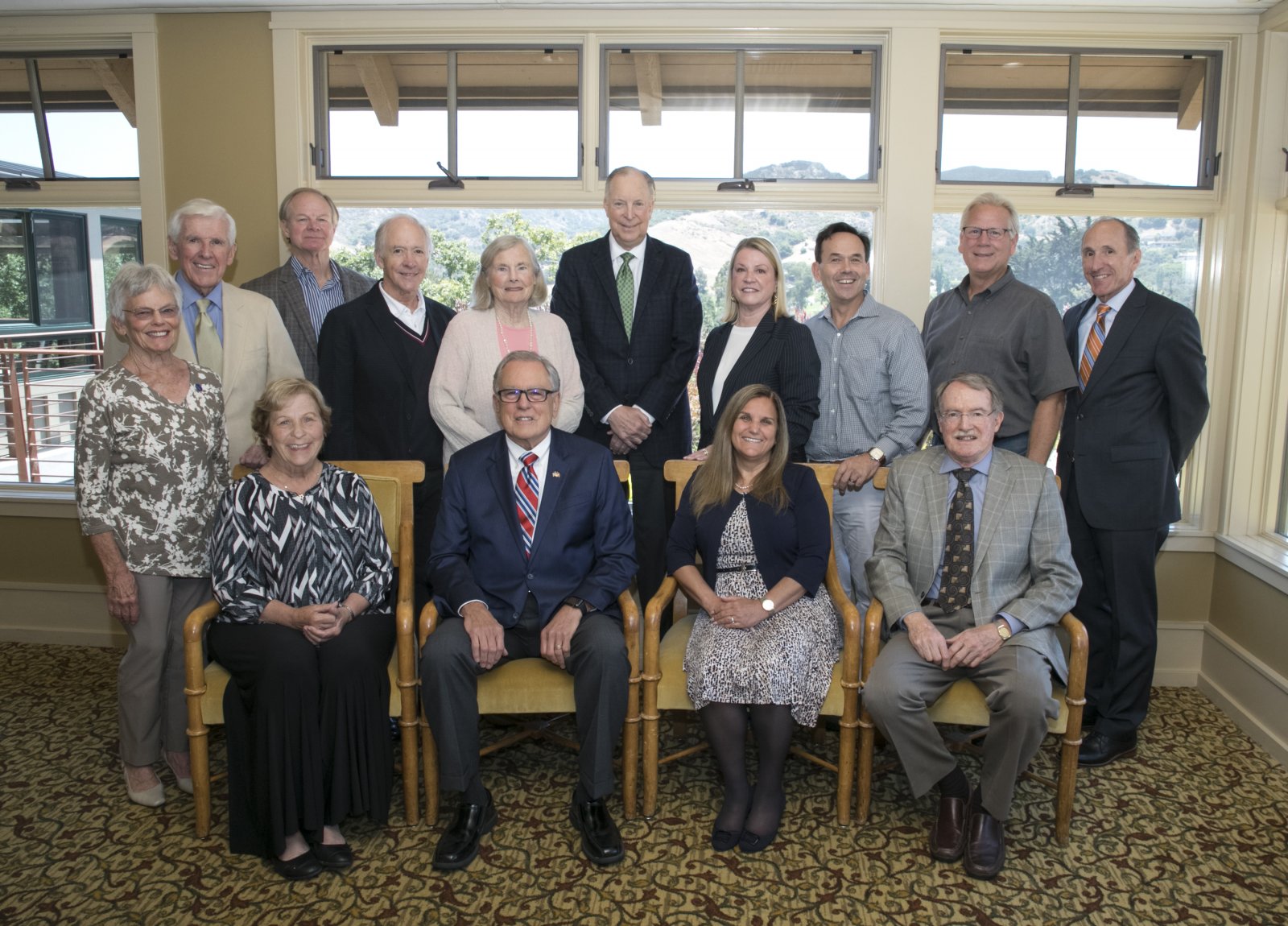 Former board chair luncheon: Front: Dick Borda, Mary Wright, Ann Brown,
Gail Delorey, Bertie Elliott, Kevin Cartwright, Dan Baldwin Back: Craig Johnson,
David Benjamin, Clay Larson, Bill Doolittle, Kurt Gollnick, Bob House
Greg Chilton, 2016
Rick Kennifer, 2015
Gail Delorey, 2014
Ann Brown, 2013
Craig Johnson, 2012
Kurt Gollnick, 2011
Richard Borda, 2009-2010
David Armanasco, 2007-2008
Mary Wright, 2005-2006
Kevin Cartwright, 2004
Robert House, 2002-2003
Kip Hudson, 2000-2001
Lewis Fenton, 1999
David Benjamin, 1997-1998
Clay C. Larson, 1996
Basil Mills, 1995
William Doolittle, 1993-1994
Roberta Bialek, 1990-1992
Wilfrid A. Daly, 1989
Kenneth Ehrman, 1988
Sydney P. Harrison, 1986-1987
Joseph A. Lee, 1984-1985
Peter Wright, 1981-1983
Monterey Peninsula Foundation*
Stoddard Johnston, 1980
Ruth Fenton, 1979
Howard Bucquet 1977-1978
Will Shaw
Jean Thomas
James vanLobenSels
Mrs. Henry Russell
Charles Kramer
Margaret Jacks
Col. Allen Griffin
*Name prior to 1981