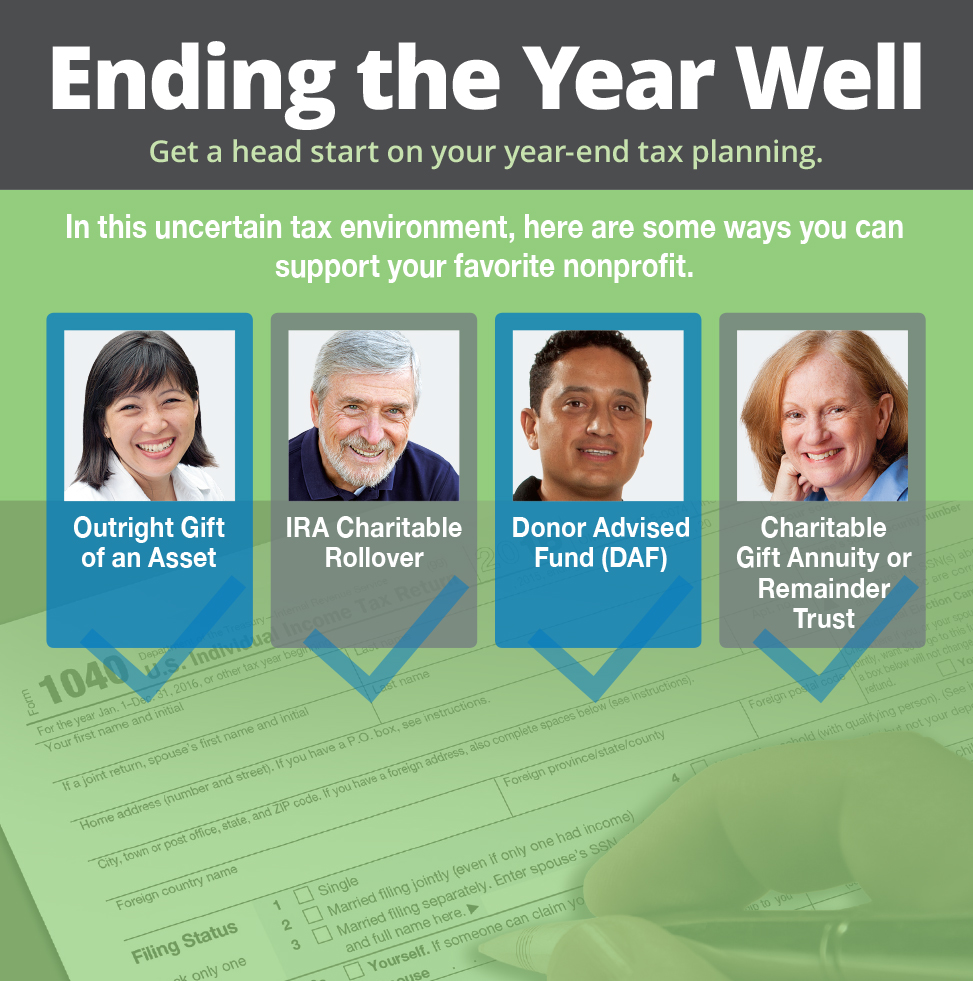 Year-End Giving – Ways to Give (& Receive Tax Benefits)
As the end of the year approaches, you may be considering ways to integrate charitable giving into your financial planning in an uncertain tax environment. The Community Foundation for Monterey County (CFMC) offers a variety of philanthropic vehicles to help you achieve your goals.
Although you could choose these options any time, they are particularly beneficial if you've had a taxable event this year and and would like to receive a tax benefit for 2017.
Giving Options
These are just some of the many giving options available. Each offers tax advantages and can help you make a meaningful difference. We can help you customize a solution that works for you.
You can give to causes you care about while gaining maximum tax benefit. Our goal is to partner with you to help you achieve your philanthropic vision."  – Christine Dawson, Vice President of Philanthropic Services
2017 Year-End Giving Deadlines
Gifts sent to the CFMC must be postmarked no later than Saturday, December 30
Credit card gifts must be made by midnight Sunday, December 31
Gifts of stocks must be received in CFMC accounts by Friday, December 29 
Real estate and partnerships assets must have title transferred or assigned on or before by Friday, December 29 (County recorder's office is closed Saturday, December 30)
Monterey County Gives!
You can also leverage your year-end giving through Monterey County Gives! website from November 9 through midnight, December 31, 2017. Learn more at www.cfmco.org/mcgives.
Donor Advised Fund Holders
To ensure that your year-end grants are sent out by December 31, the deadline for recommending grants for 2017 is 10 a.m. Wednesday, December 27. To make a gift to an organization through Monterey County Gives, you can recommend a grant from your Donor Advised Fund by selecting the organization and "Monterey County Gives" as the purpose.
The Community Foundation can also help you make a difference in the future through charitable giving through your estate or will.
We realize you consider many factors as you make significant financial and charitable estate planning decisions. We appreciate your trust and partnership and invite you to give us a call at (831) 375-9712 or visit our website to explore giving options or learn more.
Holiday Schedule
CFMC Offices will be closed November 23 and 24, December 25 and 26. All other days we will be available to serve you during regular business hours 8:30 – 5:30 PM, Monday through Friday.
As CFMC Vice President of Philanthropic Services, Christine Dawson works with individuals, families, businesses and private foundations to help them realize their philanthropic vision.