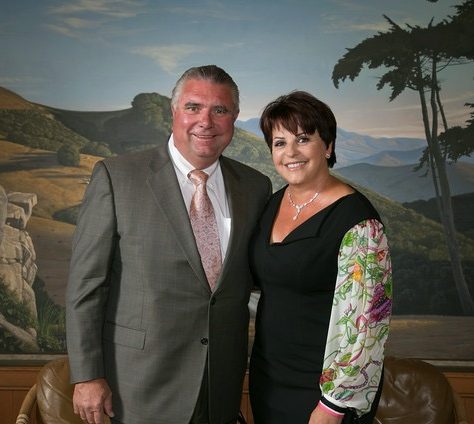 Rick and Tonya Antle – Paying it Forward
Rick Antle is the CEO of agricultural giant Tanimura & Antle. Tonya is best known for blazing the trail for organic produce as VP of Marketing at Earthbound Farms, and is now a community volunteer. They are CFMC donor advised fund holders and Legacy Society members and give back in many ways.
What does philanthropy mean to you?
To give of yourself through your time, your talent and/or your treasure. We need volunteers that can contribute the gift of time. We also need volunteers that can share their talents and when community members can give financially that's wonderful too. Everyone, no matter your age, education and economic status can be a philanthropist. The perfect example is MC Gives!
Everyone can give whatever they can to nonprofits that match their interests.
What causes do you most connect with?
Tonya – The Women's Fund – the Girls' Health in Girls' Hands initiative is truly changing lives, inspiring young ladies to think bigger and go further than they ever imagined. The Women's Fund also helps older women gain the education and skills they need to lift them up out of poverty. When a woman thrives so does her family and ultimately her community, that's powerful.
Rick – I am passionate about having more affordable housing accessible for our local workforce. T&A has taken action by creating housing for employees. We hope other employers will be inspired to do the same.
How do you pass your values to your family?
It started with service hours in elementary school. It was a great springboard to speak with the kids about the gift of time. We had them gather and deliver their unused toys to local homeless shelters. We started eliminating holiday gifts and asking them to research and decide where the equivalent amount of money would go as a donation. They still ask us to give to their nonprofit of choice instead of gifts.
What would you say about giving back?
When you come from a modest upbringing and remember the goodness of others, it stays with you for the rest of your life. So, when you can start giving back, you are paying it forward.
What would you tell others about leaving a legacy?
When you have been able to give to your favorite nonprofits over your lifetime, wouldn't it be wonderful to be able to continue to give long after you are gone? It's reassuring to know that our legacy gift will be secure and our wishes fulfilled properly and professionally. Working with the CFMC has been a true gift.
About the Antles
Tonya has been a CFMC board member since 2010, the Women's Fund Endowment Chair and Chair of the Women's Fund Leadership Council. She is a volunteer guest lecturer at Hartnell College and CSUMB, a member of the CSUMB Women's Leadership Council and Carmel Women's Club. Rick serves on the Cal Poly Ag Advisory Council and is an active member of many produce industry associations.